Ken Dunn Dives Back Into Network Marketing With Sozo Global
November 6, 2015
By Team Business For Home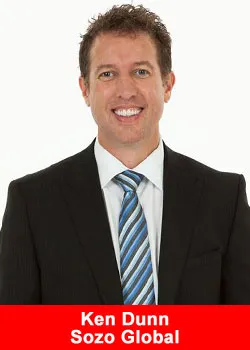 Ken Dunn could be one of the most uniquely talented network marketers in the world.
In 15 years, he earned millions of dollars in 3 different direct selling companies that he was an independent distributor with, co-founded a direct sales company that rocketed to 20 million in sales in the first 2 years, and consulted for 8 different direct selling companies in areas including compensation plan enhancement, field development, international expansion, and business management.
Today, Business for Home breaks the story that Ken Dunn is about to dive deep back into the field with SOZO Global. We were able to catch up with Ken at SOZO Global's headquarters in Austin, Texas, where he gave Business For Home these comments:
"I have spent the past 2 1/2 years focusing on Next Century Publishing & Reader's Legacy, but have never lost my love for the profession.
While focusing on the publishing business, I started doing some consulting for network marketing companies. This allowed me to further develop my expertise in the space. Recently, I reconnected with an old friend, and now President of SOZO Global, Trey Knight.
During a phone conversation, Trey asked if I would come to Austin and explain how SOZO could implement a leadership development program centered on my company's books.
In preparing for my time at SOZO, I reached out to some colleague's and learned that several old-school networkers seemed to have cycled through the company, but that didn't deter me. I spent a day with CEO Mark Adams, John Constantine, and Trey Knight and we spent hours talking about building the business.
Mark asked me several questions about how I had built such massive businesses and I explained that the greatest teams in the world were built in communities where leadership and family values were taught.
That night I couldn't sleep. I realized how much I missed Network Marketing. I also realized how closely my business values were aligned with the SOZO management team. I also saw the opportunity at SOZO, a young company that had gained some significant experience dealing with all types of characters in the past 4 years.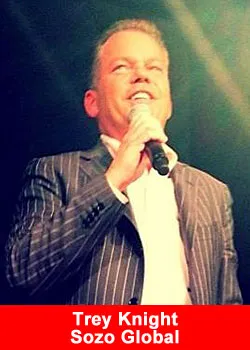 Mark Adams is a rock-solid CEO and businessman who is committed to the long term success of the company. I'm excited for what is about to happen here at SOZO. The very next morning, I turned the focus of our conversations to joining the field. I am going to build my biggest direct selling business that I have ever accomplished with Sozo.
In next 2-3 years, we will be in a dozens countries, producing hundreds of millions of dollars in revenue, giving millions back through philanthropy and helping to change the lives of people all over the planet. I have already started reaching out to my closest contacts around the world! I am so excited to be reunite with so many colleagues at SOZOFEST on Dec 5th in Austin!
We had the opportunity to speak with SOZO's CEO Mark Adams and record his thoughts on the new partnership.
"We are really excited to welcome Ken Dunn to the SOZO family. We have spent the past 4 years building an exceptional foundation and a values-driven culture. Now we are ready for the type of growth that Ken is known for in the business.

Getting to know Ken has been a real pleasure, and the leadership associated with Ken is proof of his character. We have developed a world-class team both in the home office and in the field, now it is our time".
About SOZO Global:
SOZO Global is an early stage, global direct selling company headquartered in Austin, TX, that empowers individuals to leverage their networks into income by sharing innovative health products peer-to-peer. SOZO distributors get paid to share contagiously excellent products that leverage the unique proprietary ingredients and help make physical and financial health accessible worldwide.
About Ken Dunn:
Ken Dunn is considered by most to be one of the Greatest Prospectors in direct sales. In 15 years, he has earned millions in the field, co-founded a company that generated over 20M in revenue in just 2 years. Ken is also Founder and CEO of Next Century Publishing & ReadersLegacy.com and bestselling author of Being The Change, The Most Important Minute, MLM Heart Attack and The Greatest Prospector In the World.
With the success of earning millions of dollars in direct sales and selling over 200,000 copies of his books, Ken Dunn is a leader and example of true success in sales for the modern world. Ken lives in Toronto, Canada with his wife Julie and kids Matthew and Laura.