Oriflame Emphasizes Need for Safe Products
November 13, 2015
By Team Business For Home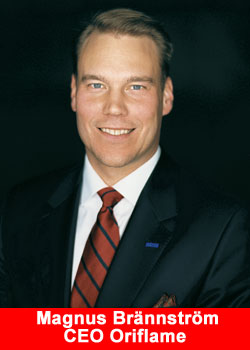 Oriflame is participating in In-cosmetics Formulation Summit in London later this month. Patrick O'Byrne, Category Director for Personal Hair care and Fragrance at Oriflame, speaking ahead of his presentation to Cosmetics Design Europe (CDE) emphasizes the need for safe, legal and relevant products.
Speaking ahead of his presentation on Sustainability and texture: regulatory update and alternatives to microbeads, Patrick O'Byrne, says there are a number of drivers for reformulation, that need to be observed.
He says some are compulsory, such as safety or legislative changes, whereas other reasons are driven by changes in the market, such as competitors' movement, consumer tastes and habits changing, as well as new materials becoming available.
"Ultimately, to be successful, a product has to be safe, legal and relevant," he says. O'Byrne also explains that any changes to a formulation can have a number of effects, some of which are desired, and some which are not.
"For example, in reformulating, generally speaking, there is a desire to enhance the performance of the product. In doing so, testing (clinical, consumer or sensory) may be required to prove the added benefit," he continues. "The cost of the formulation may also change, sometimes not in the direction commercial functions desire. With changes to the formulation, safety and legal reviews are required – testing of the new base's safety would be essential."
How times change… Over the past 10 years, safety legislation, especially REACH, has meant formulators have to be much more mindful of the materials they choose, as the information needed has become quite complex. Some emerging markets do still have challenging regulatory environments, which can influence the choice of materials available to a formulator, as well as the claims which can be made upon the formulation.
O'Byrne also says that the consumer landscape has changed a lot in the last 10 years as they are much better informed about products, performance and the impact of products, with concerns about the sourcing of palm oil and the impact of microbeads driving significant reformulations.
"Increased awareness, particularly regarding sustainability and ethical behaviour, has made products which once might have been niche now at the forefront of driving change. Oriflame delivered the Ecobeauty range in response to the enhanced consumer expectation," he adds.
Challenges and solutions
The Oriflame man says that one of the challenges his company faced in the last decade was the amount of consolidation and change in the supply base of raw materials.
"As the established raw material suppliers are challenged by new suppliers of generic materials from emerging markets, we have seen the established businesses offer much more technical advice and support when formulating new bases," says O'Byrne. "The suppliers' local knowledge of markets and of the technology they offer definitely adds value when formulating. Businesses do sometimes also offer their testing facilities to provide proof of performance. With strategic suppliers, an open exchange of ideas and plans is possible, permitting them to work alongside formulators in meeting launch plans."