The Booming Business Of Direct Selling
November 21, 2015
By Team Business For Home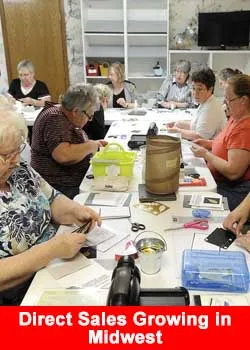 It's a more-than $32 billion industry with 17 million employees in the United States alone.
The business of direct selling is getting bigger by the day. Companies include Mary Kay Cosmetics, It Works!, Herbalife, Pampered Chef, Younique, Jamberry, Scentsy. You may have heard of at least one.
Part-time or full, this business is known to be flexible and has no limits.
It was the products. The fact that they did what they claim they were going to do. Products I was already buying elsewhere but I was just redirected what I was already purchasing, Arbonne Consultant Kay Husman said.
Kay Husman is an independent sales consultant for Arbonne selling nutrition to skincare for people of all ages.
I honestly wasn't looking for a business. I was one of those just a product junkie. I did what a lot of us when we fall in love with something, I told everyone which is networking. I started earning an income from it and took a closer look. I actually retired from my nurse job with Arbonne full -time, part-time hours, Kay Husman said.
And Sonya Eckel left her full-time Physical Therapy job to become a stay-at-home mom to her four boys. Then Norwex came along with its mission to 'clean without chemicals'.
I was already trying to live healthy and make good choices. But I put my hands on the product and knew. It was a higher quality and I knew this was something I was supposed to do. I'm supposed to share it with people, Norwex Independent Sales Consultant Sonya Eckel said.
Their companies are built on a direct sales model: selling directly to consumers away from the retail stores through things like home parties, one-on-one demonstrations, the internet and even some trade shows.
Word of mouth is huge. My customers saying they 'love it'? That's the best advertisement you could have, Eckel said.
But success doesn't come easy.
According to MarketWatch.com, a 2010 study of 12 companies found that the bottom 99% of the sales force didn't earn a net profit at all. Why? Because of expenses. Things like product samples and membership start-up fees to get into the business of selling could cost upwards of $200. Once you're in, the median income is $200/month.
Consultants bringing in more than six-figures each year only make up 1% of the entire industry.
I really thought 'yea you could make some extra cash'. I didn't know it's really up to you. You get to write that story. How ever many people you want to change their lives is how you get paid, Eckel said.
Meanwhile, some consumers are highly critical of the business claiming the pressure is 'too high to buy/sell'.
When we asked for viewer feedback via social media, April H. writes, Every post on Facebook is about some 'miracle product'. I like some of them… but I don't want it rammed down my throat.
Denise C. found one company representative she was friends with on Facebook that wrote a post asking, What would your child think if they found out you had the chance to work from home and you didn't? Denise said that post went a little too far and unfriended that person immediately.
There are bad actors, unfortunately, in every industry. Not just direct selling. That's a little bit of a reality. Just the way things are, Direct Selling Association's VP of Public Affairs Paul Skowronek said.
The Direct Selling Association (DSA) advocates to maintain a strict code of ethics for its 185 member companies. Skowronek says don't do business with a distributor if you're not getting exactly what you want.
Ensure you're doing business with a DSA member company. Frankly, because of the process that our applicant companies are subjected to, we're doing a lot of betting on the front end. We're playing an active role in setting best in class standards for this industry, Skowronec said.
Sometimes, these types of companies are mistaken for being 'pyramid schemes'. Those are actually illegal. Defined, a pyramid scheme defrauds consumers, manipulates the sales force, just to build leadership at the expense of individual participants. This takes the focus away from selling quality products.
I could sponsor someone tomorrow that could far surpass my efforts and income. That's not a pyramid. It's an even playing field. It's misleading but people unfortunately still have that foundation thought, Husman said.
As sales representatives' success grows, their business becomes more trusted and more people jump on board. Especially the younger generation, including millennials, who want something different than a traditional 9-to-5 office job. If you think direct sales is a 'get rich quick' solution, think again. The DSA cautions you to keep earning expectations realistic.
There are people who work extremely hard that have gotten better over time built business in direct selling, Skowronek said.
For Kay and Sonya, their passion is clear and their success is high from incentive trips to luxury cars and sales that soar.
But keep this in mind, it didn't happen overnight. And for some, it might not happen at all.
It's very much driven by your efforts, work ethic and passion and representing something you believe in, Husman said.
The Better Business Bureau's Sioux Falls office said there have been very few, if any, complaints regarding direct selling companies. Director Jessie Schmidt says consultants work independently and care very much about customer service as their business relies on it.
The Attorney General's Division of Consumer Protection cautions everyone to know what they're buying or selling, and vice versa. Understand there are strict rules while making sure you know the terms and agreement between both parties.?
Originally published on KSFY here.