Chris Moore Reaches Diamond Rank With Zija International
December 29, 2015
By Nicole Dunkley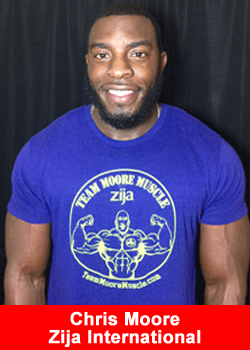 Zija International's Diamond Distributor, Chris Moore, has always had a knack for and understanding of being an entrepreneur.
Network marketing came naturally to him, and Zija's Moringa products intrigued his desire to share the health and Life Unlimited opportunity that the Utah-based company provides. The young veteran shares his experience with Zija, in his own words, below:
During my 8-year time in service I was introduced to network marketing on many occasions. I began to learn and research network marketing in 2004. I was intrigued due to my interest in entrepreneurship, which began in junior high while selling candy from my clear backpack at school.
I also learned success in entrepreneurship is more attainable when selling products that people desire. Fast forward to today. How big is the population that wants to be healthier? The desire for better health pretty much encompasses the planet. As a result I have replaced my candy and clear backpack with a car full of Zija products.
Why Zija? It's difficult to think of a reason why not. We, as Zija Distributors, are beyond fortunate to be able to share what I think are the healthiest set of products ever devised. How many companies have an owner that is the most respected in our industry?
How many companies have grown steadily for 10 years, own every part of the business from tree roots to delivery, have the infrastructure in place to handle multiple billions in annual sales, and is currently entering an exponential growth phase? How many companies have improved its compensation plan for us each time it was changed? There is only one . . . Zija.
I am humbled to be able to share the health and Life Unlimited opportunities with Zija and am forever grateful for the support and leadership of my sponsor, Joel McNinch.
Zija International, a privately-held and privately-funded business founded by Kenneth E. Brailsford and led by Ryan Palmer, develops natural health, wellness, nutrition, beauty and fitness products. The company operates in more than 50 countries worldwide.
Zija has seen consistent growth every year since it was founded over 9 years ago and was named the Fastest-Growing Company in Utah by Utah Business Magazine. It has also been recognized on fastest-growing and top-revenue lists by Inc. Magazine, Direct Selling News, and Utah Valley Magazine, to name a few.
With corporate offices located in Lehi and more than 4 million sq. ft. of state-of-the-art warehouse, shipping and manufacturing facilities located in Utah, United States, Zija International employs more than 200 individuals and has the capacity to grow to more than two billion dollars in annual sales.