Direct Selling Business Critical For India's growth
December 11, 2015
By Team Business For Home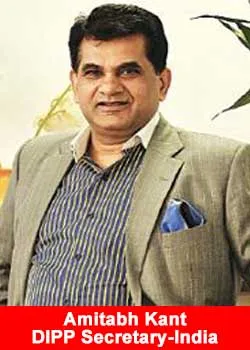 The Indian direct selling industry has an advocate in the Department of Industrial Policy and Promotion (DIPP) of the Ministry of Commerce. Speaking at an event about Direct Selling, Amitabh Kant, Secretary (DIPP) said that said that the Direct Selling industry is a critical part of India's growth story as it contributes to employment, entrepreneurship, growth of MSMEs, and most importantly women empowerment, according to a press release by the Confederation of All India Traders (CAIT).
Speaking at an event about direct selling – the marketing and selling of products directly to consumers away from a fixed retail location, by industry body (Ficci), Kant said the industry had enormous growth potential.
Direct Selling business is a part of Make in India. It should not be equated with fraudulent financial schemes and should gain government recognition and proper legislation. A conducive atmosphere to ensure robust growth of this business in India is the need of the hour, Kant said at a Direct Selling-2015 conclave held at the FICCI Auditorium in New Delhi.
He said that companies like Amway have contributed to the Make in India story by establishing a large manufacturing base in India.
He added DIPP has already sent the draft guidelines on direct selling to the department of consumer affairs, which is the nodal authority for all legislation on the matter, for state level implementation.
The conclave was organised by the Federation of Indian Chambers of Commerce and Industry (FICCI) and the Indian Direct Selling Association (IDSA) in association with CAIT.
He hoped that with a growth rate of 25 per cent by the year 2025, direct selling business in India has the potential to grow into a $10 billion industry. Currently, direct selling accounts for around 0.4 per cent of all retail sales in the country, which generates $75 billion annually. Since growth is linked with creating jobs, support policies must be drawn for this sector, said Kant.
Earlier, CAIT Secretary General Praveen Khandelwal said that direct selling should be treated as an integral part of retail trade and specific rules and regulations must be made for smooth operation of the business in India. He said that under the Government's Make in India programme, Direct Selling Companies should be facilitated in setting up their manufacturing plants in India. He further said that legislation for Direct Selling industry should include safeguards to protect the interest of both the industry as well as consumers.