Healthy Chocolate Company Is Celebrating Its 10th Year
December 11, 2015
By Team Business For Home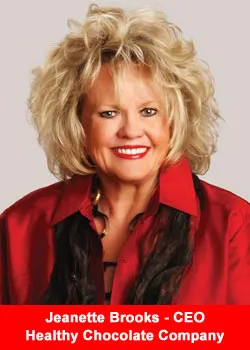 The Healthy Chocolate® Company is celebrating its 10th year distributing the world's healthiest chocolate.
Founded in 2005, the concept for Healthy Chocolate® was formed in the mind of the Company's Founder & CEO, Jeanette Brooks.
"I was out of shape, diabetic, craving sweets and desperate for a solution, after scouring the planet for an answer I realized that none existed.
So I created our Healthy Chocolate® that has helped not only myself in so many incredible ways, but thousands upon thousands of our consumers and distributors for over 10 years."
"It has been a remarkable decade for us and our distributors," says Founder & CFO, Andrew Brooks. "In the past ten years we have created seventeen millionaires and eight multi-millionaires worldwide! We have awarded dozens of our leaders with Mercedes Benz luxury vehicles.
We have taken our distributors on countless reward trips to exotic destinations all over the world. We have opened 39 countries, and we are approaching $400,000,000 in lifetime sales. I have always been a big goal setter, and over the past decade many of our corporate goals have been exceeded and there are many remaining that we are excited to achieve."
"I am so grateful to be a part of the Healthy Chocolate® Company," says Founding Distributor Jeremy Reynolds "In the past 10 years, we have earned over $8,000,000 by consuming, sharing and showing others how they can make their dreams come true with Healthy Chocolate® too! This was my first experience as a distributor with Network Marketing, and I am so fortunate to have been with one company, The Healthy Chocolate® Company, now for 10 years.
Before Healthy Chocolate®, I owned a successful nutrition manufacturing company, but really, it owned me. Overhead, operating expenses, payroll, benefits, the risk and cash flow were constant strains on our freedom and enjoyment of the business. Now, I have the time freedom to enjoy this lifestyle with my family while building my Healthy Chocolate® business and helping my team make their dreams come true as well. Many on my team have also enjoyed the amazing health benefits consuming our products and have earned life-changing income along the way!"
"I can tell you we have been very busy these past 10 years," says Andrew "Not only have we developed the world's healthiest chocolate, but it is also the most functional chocolate on the planet. Our X Power Square delivers an astounding ORAC score of over 122,000 per serving! Our Xobiotic, created for promoting healthy digestion, has over 3 billion microorganisms per square and is one of our top selling products.
We even pioneered our XoLove bites, combining L-Arginine with maca bringing to the world the perfect combination of 'love food'. Jeanette has developed an amazing skin care line, Xophoria, which is also cacao-based, and its results are unlike any other skin care product in the world today. Xe, our all-natural, cacao-based energy drink, tastes amazing and delivers the necessary antioxidants with healthy energy that will sustain you throughout the day. We love being category creators."
"I can hardly wait to see what the next decade looks like for Healthy Chocolate®," says Jeanette "We are debt free, we have top-shelf executive and management teams, and we have solidified our position as the category creators of Healthy Chocolate®, being awarded the trademark of Healthy Chocolate® worldwide. We created and continue to lead the market of Healthy Chocolate®, and we are just warming up!"
About Xoçai®, The Healthy Chocolate® Company
Founded in 2005 by Jeanette Brooks and Andrew Brooks, The Healthy Chocolate® Company has become the recognized world leader in Healthy Chocolate®. They offer a specialized product line that delivers exclusive antioxidant products such as Healthy Chocolate®, anti-aging, skin care, healthy energy, and weight loss.
Unlike most chocolate products, which are heated and alkalized, thereby destroying the powerful antioxidants of raw cacao, The Healthy Chocolate® Company uses a proprietary, cold-processing method to preserve cacao's potent nutrients for scientifically proven and whole-body benefits.
The Healthy Chocolate® Company is a membership based network and provides each member the opportunity to live longer, healthier, and prosperous lives. For more information please visit www.healthychocolateco.com or phone 775.971.9903.