Meet ForeverGreen 5-Star, Joy Edgerton
December 8, 2015
By Nicole Dunkley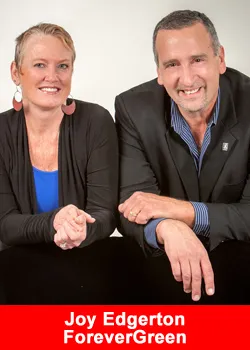 Joy Edgerton began her career in Direct Selling in the early '90s. She wanted to start her own business as she was seeking a way to save on taxes and earn some extra income as well. She saw Direct Selling as the perfect opportunity do both. Joy was first introduced to ForeverGreen in August 2005 when exposed to a new product, FrequenSea, with which she immediately fell in love. She then decided to fly to Utah to learn more about ForeverGreen and the many products it offers.
"That one visit changed my life! The company far surpassed my ideal company with which to align. ForeverGreen has the highest standards for all products and high integrity in the industry, and when you put those together with leadership vision and heart, you can't find a better home."
Joy ventured into other Direct Selling companies from 2009-2012, mainly as a fear of missing out on other opportunities but quickly realized that none of the other companies really felt like home.
She loved the vision and integrity of Founder and CEO, Ron Williams and ForeverGreen staff. Joy stated that, "with ForeverGreen, I have never felt like a number. I have felt part of a family and I think that is one of the biggest things to which people are attracted. When you find a company where you feel aligned with like I do with ForeverGreen, it is crazy to look elsewhere."
Joy enjoys telling others about ForeverGreen and what they stand for. She specifically enjoys sharing ForeverGreen mottos 'Service before Sales' and 'People before Profits'. Joy realized that people also really enjoyed learning about how easy it was to earn money with ForeverGreen. Joy stated, "The compensation plan is fair and potentially has the highest payout in the industry."
Today, Joy continues to thrive at ForeverGreen, a place where she feels passionate about its people and products. She stated, "ForeverGreen has created an atmosphere of FAMILY that is unique in this industry."
About ForeverGreen Worldwide
ForeverGreen Worldwide Corporation develops, manufactures and distributes an expansive line of all natural whole foods and products to North America, Australia, Europe, Asia, Africa and South America, including their new global offerings, PowerStrips, SolarStrips and BeautyStrips. They also offer Azul and FrequenSea, whole-food beverages with industry exclusive marine phytoplankton, a line of hemp-based whole-food products, immune support and weight management products, Pulse-8 powdered L-arginine formula, 24Karat Chocolate.