Talk Fusion Releases Enhanced Version Of Live Meetings To Exclusive Test Group
December 2, 2015
By Nicole Dunkley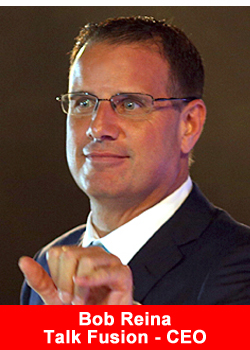 Closing out a banner year filled with innovations to their industry-exclusive video communication products, global leader Talk Fusion is moving forward with some major new enhancements to their video conferencing platform Live Meetings. These additions and improvements will make it even easier for both small and large businesses to increase productivity and to connect face to face through dynamic video meetings with customers, vendors, salesmen, family and friends.
Talk Fusion Associates and Customers alike eagerly volunteered to join the Exclusive Live Meetings Test Group to get a world-first look at the new intuitive features and interface. The initial test group quickly filled beyond capacity and the company expanded their testing parameters to accommodate the overflowing anticipation and excitement.
"Our Associates and Customers take pride in our dedication to innovation and excellence," said Founder & CEO Bob Reina, "and their response has been overwhelming. These new features and enhancements will be tested by people in all parts of the world."
The Live Meetings improvements include enhanced capabilities for creating presentations, an all-new user interface that offers a superior look and feel, and better audio quality, image quality and image stability than ever before.
"The technology world is always reinventing itself. That's why we are in a constant cycle of enhancement, addition, and improvement," commented Bob Reina. "If we waited for others to make a technology breakthrough, we would always be trying to catch up. At Talk Fusion, our goal is to stay ahead of the pack, and we do that by always reviewing our products and moving the technology forward."
That technology includes faster servers, significantly decreased load times for web browser and desktop sharing, plus enhanced Whiteboard features – everything needed to host a successful and comprehensive online conference.
"What a fantastic job. This product will be well received in the business community around the world," remarked Grand Blue Diamond Ron Wright. "The quality enhancements you've put into Live Meetings will really help us to go out and build a tremendous business."
"I set the bar very high," said Reina, "but this new version has really exceeded my expectations."
ABOUT TALK FUSION
A global leader in Video Communication Products, Talk Fusion is dedicated to changing lives through unmatched life-sharing solutions provided by proprietary, patent-pending video technology.
Talk Fusion's innovative products are marketed person-to-person by independent Associates in more than 140 countries.
Founded in 2007 by CEO Bob Reina, Talk Fusion introduced the world's first Instant Pay Compensation Plan. Talk Fusion adheres to the highest ethical business practices and is a member of the prestigious Direct Selling Association (DSA). Reina firmly believes that "with great success comes greater responsibility."
Talk Fusion fosters a strong commitment to Giving Back to friends, family, communities, and animal charities across the world to produce a positive global change. Learn more at www.TalkFusion.com and "Like" Talk Fusion at www.facebook.com/TalkFusion.
Income Disclaimer:
Any earnings portrayed in any Talk Fusion marketing materials are not necessarily representative of the income, if any, that a Talk Fusion Associate can or will earn through his or her participation in the Talk Fusion Instant Pay Compensation Plan. All references to income, implied or stated, throughout the Talk Fusion Instant Pay Compensation Plan are for illustrative purposes only. These figures should not be considered as guarantees or projections of your actual earnings or profits. Talk Fusion does NOT guarantee any level of income or earnings to any Associate; any representation or guarantee of earnings would be misleading. The purchase of a Talk Fusion Product Package is completely optional and is not required for an Associate to participate in the Talk Fusion Instant Pay Compensation Plan.