Top Earner John Haremza Launches New Book
December 9, 2015
By Team Business For Home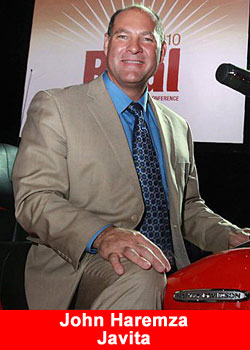 "Are you doing it right, or almost right?" This is the question posed by expert network marketer John Haremza in his newest book, Right or Almost Right, which has now released through Next Century Publishing. Haremza finds that in his everyday life, many people approach him with the same questions. "Where's the money?" "Why am I not seeing the success I expected?" John believes that the answer is simple; subtle differences in how the network marketing business is done determine whether you're making a little money versus making a lot of money – between achieving success and struggling.
As a child growing up with dyslexia, John was perceived to be slow, dumb and stupid. With no self-esteem and the desire to be invisible, he felt as though he had little hope for the future. John is a true American rags-to-riches tale, with humble beginnings in Perham, Minnesota, to becoming a world-class network marketing leader.
His message is clear: "If I can do it with my challenges and background, then anyone can do it." John is living proof that anyone can be successful in business, regardless of their education, background or finances.
In Right or Almost Right, John aims to leave readers with a new found belief and excitement. He addresses many of the basics of "doing the business", from prospecting to leading an organization, and points out what is "right" as compared to what is "almost right." John has lived every example contained in his book.
The book is available for purchase at Amazon, Barnes & Noble and Reader's Legacy.
About John Haremza
John Haremza lives in Fargo, North Dakota, USA. After graduating from high school, John got a job as a machine operator at a potato chip plant. When he was promoted to maintenance manager he thought that this job which paid him $22,000 a year was the best he could ever hope for, given his severe case of dyslexia. Then he was introduced to network marketing and his life changed forever. Now, after spending 25 years in the business, John has earned over $14 million. He has been responsible for product sales of over $500 million, his teams have earned over $200 million in commissions, he has produced 100s of sales tools to support his teams, and he is featured in numerous publications.