Tupperware's Winning Growth Strategy In Emerging Markets
December 9, 2015
By Team Business For Home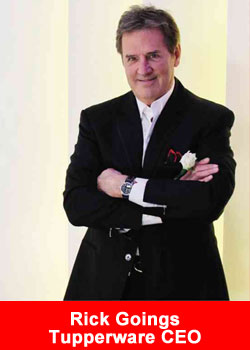 Having Tupperware parties is apparently becoming cool once again. That is one of the key takeaways from the company's third quarter report, which suggests more women around the globe are throwing parties to hawk the company's latest kitchen gear.
Tupperware's local currency sales numbers, which strip out the impact of the strong U.S. dollar, rose 7% in the third quarter from the prior year. Reported sales, which do reflect the dollar's strength against foreign currencies, fell 11% in the quarter. On a local currency basis, in emerging markets — from which Tupperware derives about 70% of its sales — sales rose 11% owing to growth in Brazil, China and Indonesia. In particular, sales in China and Indonesia rose 18% and 12%, respectively.
Sales in North America increased 14% as the company's number of active sellers rose by 20%. Excluding one-time items, earnings came in at 79 cents a share, beating Wall Street's consensus forecast by 8 cents a share.
In an interview with TheStreet on the cultural trends driving the company's business abroad in the face of slowing emerging-market growth, Tupperware chairman and CEO Rick Goings said, In general, you only have 30% of the women working outside the home, so they are looking for an opportunity. You also have a very poorly developed retail infrastructure, he continued, and we are like an off-road vehicle — we don't have to wait for retailers to open.
Regarding China, where Tupperware's direct sellers offer its products in some 5,200 experience studios, Goings called fears of an economic slowdown overblown, and said that consumers there are still spending money.
As a direct seller, attracting and retaining talent is critical for Tupperware. With the U.S. job market continuing to gain steam, keeping women as sellers of Tupperware may become a bit more difficult in 2016 as other, potentially more lucrative opportunities surface.
Goings concedes that it's a little tougher to recruit when the unemployment rate declines, but said that retention is fairly strong. Because it's a solid opportunity to go from a demonstrator to a manager to owning a very lucrative business as a distributor, we tend to keep people, he said.
While it employs a legion of direct sellers worldwide, one thing not up for sale is the company itself, though consumer products giants Newell Rubbermaid and Jarden are reportedly considering a merger. The company possesses an extremely well-known brand, it throws off a good bit of cash flow each year, and with its shares down about 22% from their 52-week high, it's not hard to imagine Tupperware being approached by an interested suitor.
So is there any interest in selling the company? Absolutely not, said Goings, dismissing the possibility.
In an Oct. 22 note to clients, JP Morgan analyst Sofya Tsinis said, we believe that as a direct seller Tupperware is well positioned to benefit from a relatively under-penetrated retail infrastructure in the emerging markets, where they also face limited competition on the core Tupperware franchise. Tsinis rates Tupperware shares a hold.
With its focus seemingly on growing its business, Tupperware is looking to continue to churn out innovative new products for its direct sellers to pitch. According to Tupperware, about 25% of its sales each year are derived from new products. Goings declined to share details on what key consumer trends Tupperware will be trying to address in 2016, but he did mention continuing to introduce new products that enhance food made in a microwave is something it will continue to focus on.
For example, this year, Tupperware introduced the SmartSteamer, which is a two-tiered cooker that actually blocks the microwaves from heating the food directly. Instead, the microwave heats water in a lower pan, creating steam that rises into the upper tier and cooks the food. There are a lot of microwaves around the world, said Goings.