Melaluca Marks Three Decades In Business
January 27, 2016
By Nicole Dunkley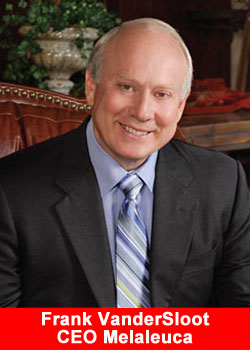 A major East Idaho business reached a milestone this past September. Melaleuca Inc. celebrated its 30th anniversary.
Melaleuca founder and CEO Frank VanderSloot says Idaho has been a great place to start a business. And after recently building a $50 million global headquarters in Bonneville County, VanderSloot also showed it's a place for major corporations to remain.
Although Melaleuca has been a part of east Idaho for three decades, not everyone knows what it does. Melaleuca has developed over 450 different health and wellness products, which it makes for customers in 18 countries. Its products range from vitamins and health supplements to non-toxic household cleaners. It also offers a full line of essential oils, skin care and cosmetics, and personal care products.
"Melaleuca has always placed a premium on research and development, and high-quality, natural ingredients," Hollander said. "As we create each of our products, we do so with the philosophy that if it doesn't either outperform the market leader or provide benefits that the competition doesn't, then we simply won't sell it," according to Melaleuca's Chief Marketing Officer Scott Hollander.
Melaleuca also competes by changing where consumers buy products. Instead of relying on mass merchandising channels like its competitors, Melaleuca has gone a different direction. Melaleuca customers buy directly from the manufacturer.
Hollander recognizes that Melaleuca's consumer-direct model requires it to innovate beyond the standards of its competitors. He understands Melaleuca's products must overcome a high hurdle if they are to cause enough excitement and customer loyalty to be a topic of discussion among friends.
Melaleuca has created a significant niche in the health products industry and has learned what it takes to flourish with its non-traditional business model. A glance at the company's growth chart reveals it has become one of Idaho's top five private companies started in the state.
Melaleuca has reached $1.2 billion in annual sales, mostly from 1 million customers who repeatedly purchase from its online store and hardcopy catalog. The vast majority of Melaleuca products are purchased on the company's website.
Its backbone for success is a 95 percent reorder rate, which means 95 percent of customers who buy products in any given month will buy again the following month.
Melaleuca also had about 150,000 customers who referred new customers to the company last year. Each of them received a commission check, with some earning just $2.50 per month and others receiving a more substantial amount.
Melaleuca says it has paid $4.1 billion in referral commissions over the past several years.