TelexFree – Sann Rodriques in Jail
January 21, 2016
By Team Business For Home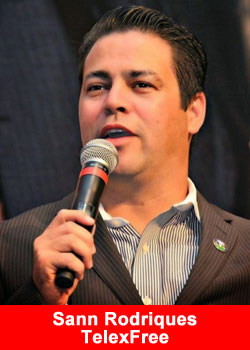 One of the top promoters in TelexFree Inc.'s alleged $3 billion pyramid scheme is being held in a Florida jail on a contempt charge, after failing to return assets including cars and cash that securities regulators had frozen.
Sanderley Rodrigues de Vasconcelos, known more widely as Sann Rodrigues, was arrested in May on visa fraud charges and has been home under electronic surveillance awaiting trial. But he was arrested Thursday and is now in custody in Tampa, according to federal officials.
A judge in the Securities and Exchange Commission's civil case against Rodrigues in December held him in contempt for violating the terms of his release on bail.
He had been given a deadline of Jan. 15 to return $233,473 transferred out of his bank accounts, as well as proceeds from the sale of a Ferrari, a Mercedes, and three Florida condominiums.
A lawyer for Rodrigues could not be reached. He fired a lawyer last summer who used to represent him.
TelexFree, formerly based in Marlborough and Brazil, filed for federal bankruptcy protection in the United States in 2014. Prosecutors and bankruptcy officials allege that it is the largest pyramid scheme in history, in terms of the number of victims.
At least 1 million people around the world invested with the company, which purported to sell cheap long distance phone plans but allegedly made most of its money recruiting members to invest. Money from later participants was used to pay off earlier ones, according to prosecutors.
TelexFree's top executives are facing criminal charges and prison time if found guilty.