Top Industry Leader Ed Hartley Joins Vísi
January 25, 2016
By Team Business For Home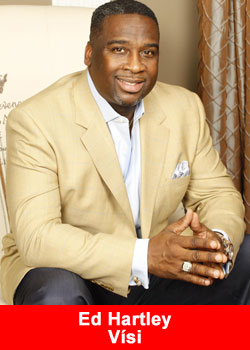 Vísi is proud to welcome millionaire earner, marketing strategist, and talented business executive Edward Hartley to their worldwide team.
Hartley is a 30-year veteran of network marketing and a top 1% income earner in the industry and is now leading the way at Vísi.
Known as an incredible MLM tactician, Hartley has built a dynamic and impressive universal team of over 40,000 distributors in just the past 5 years. In that same short period, he also swiftly created a solid foundation with over $4 million in earnings.
The sought-after presenter has not only captured a significant audience and following in the United States, but Hartley is also a well-respected leader in the international marketplace. Through his previous experience as an electric construction company owner and forensic accountant, Hartley gained an executive's instincts and a keen understanding of how to push the level of performance to new heights.
Hartley values the importance of building a team, and he is a consistent broker and mentor for exceptional talent. "I liken joining Vísi to holding a blue chip stock in your investment portfolio," Hartley says.
"I'm naturally an entrepreneur, and the opportunity to participate in the equivalent of an IPO type experience was way too appealing to overlook. We watched LeBron James leave an incredible team to guide an up-and-coming basketball organization to a championship. I see the same result in the future of this magnificent company."
Winning is the only option for Hartley, who stepped into Vísi poised for success. The savvy leader captured the rank of Arctic Premier in his first week at Vísi, also bringing two of his Partners to Arctic 4 Star. Always a leader of the pack, he has already attended the Vísi Leader Launch in San Diego, qualified for the new Club 28 (available to only the most ambitious business builders), and laid the foundation for a thriving business.
"Ed is an amazingly talented individual and an exceptional networker. He inspires and energizes literally everyone he comes in contact with—it is an incredible thing to see," says Vísi Founder & CEO Kent Lewis. "It is a privilege to have Ed join the Vísi family."
Few find themselves able to keep up with Hartley's tireless work ethic and irrepressible energy. He finds even more vitality now as a faithful Vísi customer with a real-life testimony of Vísi's incredible product line. He believes in the quality of the brand and future potential of the company, and he is anxious to share it with the world. Hartley's professionalism and commitment to excellence embodies the Vísi core values: bold, authentic, welcoming, and exploratory. He looks forward to helping Vísi Partners blaze new trails and help others lead their best life.
About Vísi
Vísi channels the Scandinavian spirit of exploration and was born out of the desire to help people lead their best life. We chose the name "Vísi" from the Viking word for "leader".
Vísi is the first company to combine the antioxidant power of wild-grown arctic cloudberry, with hydrolyzed collagen protein—the most absorbable form of protein available. Together this synergistic combination is known as AC2 Technology.