WorldVentures Celebrates 10th Anniversary Among 22,000+ Reps
January 19, 2016
By Nicole Dunkley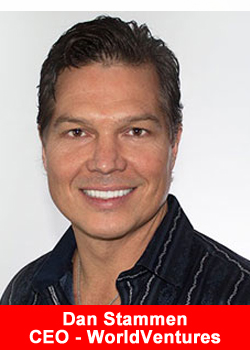 WorldVentures annual UNITED conference, held inOrlando, Fla. Jan. 15-17, celebrated the company's 10th anniversary of helping people achieve more fun, freedom and fulfillment and providing its Members with premium vacations at reduced prices.
Over 22,000 Independent Representatives came together to celebrate past successes, look ahead to the next decade with innovative new technologies and travel products, and give back to the Orlando community.
In the spirit of its core value: Care and Concern, WorldVentures Independent Representatives kicked off the weekend by coming together on the morning of Friday, Jan. 15 to volunteer at eight area Boys & Girls Clubs of Central Florida.
The group of 350 volunteers—the largest in WorldVentures's history—were divided among eight clubs to do a variety of projects. Several of the projects were outdoors in the playground areas where volunteers worked tirelessly even during torrential rain storms. This WorldVentures Foundation volunteer effort served 1,170 Boys & Girls Clubs members in the Orlando area.
In collaboration with our national partner, Boys & Girls Clubs of America, we are proud to once again be leaving a destination better than we found it, said WorldVentures Foundation Executive Director,Gwyneth Lloyd.
There is so much enthusiasm from our reps—the largest WorldVentures Foundations volunteer group ever—to really make a difference in the lives of kids in Orlando.
The WorldVentures Foundation also launched its public campaign for the Journey to 100 initiative, which aims to build the 100th bottle school in partnership with Hug It Forward. Bottle schools are schools built using eco-bricks: plastic bottles stuffed with inorganic trash. Entire communities come together to build a more sustainable educational infrastructure for their future. WorldVentures Foundation has funded 68 bottle schools to date.
During the conference, WorldVentures introduced the innovative new technology to be developed exclusively for the company by with Nxt-ID, Inc. based on their Wocket®, a unique smart wallet that serves to securely store all credit cards.
The smart card will be customized with additional technologies and wireless features, such as the ability to seamlessly integrate with WorldVentures's DreamTrips App to wirelessly check in and earn loyalty points towards free DreamTrips vacations at select restaurants.
WorldVentures, an Inc. 5000 fastest-growing company, is also ranked 47 on Direct Selling News magazine's 2015 Global 100 list (up from 67 on the 2014 list). Since 2010, the Global 100 has celebrated the world's most influential direct-selling companies based on revenues from the previous year.
To be recognized as a leader among other top direct-selling brands is phenomenal, said Wayne Nugent, co-founder and chief visionary officer. As we enter into the next decade, we look forward to consistent success and impacting more lives around the world.
About WorldVentures
WorldVentures Marketing, LLC is the leading international direct seller of vacation club memberships and helps people achieve more fun, freedom and fulfillment by offering DreamTrips™ memberships, which include premium vacations at reduced prices. WorldVentures is a privately held company based in Plano, Texas, with active Representatives and members in 28 countries. For more information, please visitwww.worldventures.com.