Nature's Sunshine Reports Q4 & Full Year 2015 Financial Results
February 26, 2016
By Nicole Dunkley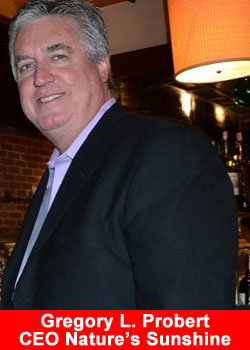 Nature's Sunshine Products, Inc., a leading natural health and wellness company engaged in the manufacture and direct selling of nutritional and personal care products, today reported its financial results for the fourth quarter and full year ended December 31, 2015.
Fourth Quarter 2015 Financial Highlights
Net sales revenue of $80.0 million, decreased 7.7% compared to $86.7 million in the fourth quarter of 2014. On a local currency basis, net sales revenue decreased 3.2% compared to the fourth quarter of 2014.




Net sales revenue was negatively impacted by $3.8 million of unfavorable foreign currency exchange rate fluctuations, as well as a $3.8 million decline in net sales in the NSP Russia, Central and Eastern Europe segment.
Net income from continuing operations was $3.3 million, or $0.19 per diluted common share, compared to $0.9 million, or $0.05 per diluted common share, in the fourth quarter of 2014.
Earnings per diluted common share for the fourth quarter of 2015, were impacted by several factors including: the Company's investment in China of approximately $0.10 per share; foreign currency translation losses of approximately $0.04 per share; and the net sales decline in the Russia, Central and Eastern Europe segment of approximately $0.02 per share, offset by a $0.10 per share difference due to favorable changes in the effective tax rate.
Adjusted EBITDA was $4.6 million compared to $2.6 million in the fourth quarter of 2014. Adjusted EBITDA, which is a non-GAAP financial measure, is defined here as net income from continuing operations before taxes, depreciation, amortization and other income adjusted to exclude share-based compensation expense.
Management Comentary
"Overall, our 2015 financial results were muted on the whole as a result of macroeconomic factors including the strength of the U.S. dollar and the ongoing conflict in Russia and Ukraine, in addition to the investments we have been making in China," commented Gregory L. Probert, Chairman and Chief Executive Officer.
"However, we continued to make progress against our strategy to deliver science-based products and programs to help drive enhanced Distributor adoption and engagement. We were particularly excited about the opening of our multi-million dollar research center in early 2015, the Hughes Center for Research and Innovation, which enables us to lead the development of effective herbal and nutritional products for consumers worldwide by studying supplement interactions at a molecular level. During 2015, we released 43 new products, two of which are patent-pending.
Further, we were encouraged to see fourth quarter growth in four of our top five markets (representing 67% of worldwide revenue), including NSP United States and NSP Canada which posted their sixth consecutive quarters of year-over-year local currency sales growth. This growth was primarily due to increased traction from our IN.FORM program, improved retail sales and the success of key product launches and promotions."
Mr. Probert continued, "We were particularly encouraged by the strong year-over–year, fourth quarter growth experienced by Synergy Asia. The region has been gaining momentum as a result of well-received product introductions and Summits in Korea, Japan and Indonesia. In an effort to spur Synergy's growth in Europe and North America, we are working towards implementing a consistent product strategy across all regions with a more cohesive sales method focused on detox, weight management and a daily habit of health."
"Fourth quarter total revenues and operating income continued to be adversely impacted on a year-over-year basis primarily as a result of the ongoing challenges in NSP Russia, Central and Eastern Europe associated with political unrest and local currency devaluations.
That said, revenues in the NSP Russia, Central and Eastern Europe segment increased slightly over the prior quarter despite very strong currency headwinds as a testament to both targeted pricing promotions and product kits which have been introduced and priced to help strengthen and support the advancement of our Distributor base in the region. Despite the uncertainty, we will continue to act strategically and work with our local partner to stimulate growth in the region as the situation steadies," added Mr. Probert.
Mr. Probert concluded, "We have been very focused on building a strong foundation in China and are proud to report that all aspects of our operating plan are on track. We are optimistic that we will be able to secure a license in China to conduct direct selling activities in the second half of 2016.
We made significant traction towards this goal over the past year with the grand opening of our new Shanghai office, which will serve as the Nature's Sunshine Products' headquarters in China, in addition to several key new hires to help support our successful launch in the region. Additionally, we designed new product packaging to achieve a refreshed, premium look and continued the process for general food importation and blue cap registration for select products. We are very excited to enter China and look forward to providing updates on our progress in the coming quarters."
About Nature's Sunshine Products
Nature's Sunshine Products, a leading natural health and wellness company, markets and distributes nutritional and personal care products through a global direct sales force of over 576,000 independent Managers, Distributors and customers in more than 40 countries. Nature's Sunshine manufactures most of its products through its own state-of-the-art facilities to ensure its products continue to set the standard for the highest quality, safety and efficacy on the market today. The Company has four reportable business segments that are divided based on the characteristics of their Distributor base, similarities in compensation plans, as well as the internal organization of NSP's officers and their responsibilities (NSP Americas; NSP Russia, Central and Eastern Europe; Synergy WorldWide; and China and New Markets). The Company also supports health and wellness for children around the world through its partnership with the Sunshine Heroes Foundation.