QNET Empowers Young Women Entrepreneurs
February 13, 2016
By Nicole Dunkley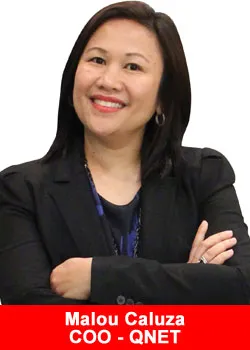 To celebrate International Women's Day, prominent Asian direct selling company QNET continues to develop young women entrepreneurs who can enrich their families, make a difference in their communities and in the lives of others, and reach for their own dreams.
More and more women want to achieve better work-life balance, earn extra income while nurturing their families. Some are keen to start their own business, manage their time and be their 'own boss'. One of the quickest, easiest, and low risk opportunities available to women is to be empowered visionaries and entrepreneurs within the direct selling industry.
Khaled Diab, Regional General Manager, QNET MENA says,QNET has always been a keen supporter of women's rights and of gender equality. Based on the statistics provided by the Direct Selling Association 74.4% of the Independent Representatives and workforce working in the direct selling business are women. With their nurturing nature and 'never say die' attitude they have greatly contributed to the success of the direct selling business here in the MENA region and worldwide.
Leading US agency USAID (United States Agency International Development) aptly describes the growing importance of developing women leaders. It says: "Progress cannot be delivered in a vacuum. For societies to thrive, women and girls must have access to education, healthcare, and technology. They must have control of resources, lands, and markets. And they must have equal rights and equal opportunities as breadwinners, peace-builders and leaders."
QNET empowers women by encouraging them to join their team, as direct sellers, maximizing their earning potential while giving them the freedom to work according to their individual schedules. The flexibility of working as an IR has many benefits although one must be dedicated and driven to achieve and surpass one's goals.
QNET offers a wide range of products for women in health, wellness and beauty, which include Couleurs make-up by QNET, Physio Radiance skin care range, and the luxury Swiss-made lady watches from Bernard H. Mayer.
About QNET:
As a prominent Asian direct selling company, QNET provides a wide range of life enhancing products that are offered through its proprietary e-commerce platform to customers and distributors in more than 100 countries. The company also has some 25 offices and agencies worldwide, and more than 50 stockists, apart from localized operations or franchisees in a number of countries. In UAE QNET operates from 3 locations, offices in Dubai and Abu Dhabi as well as a logistics hub in Mussafah.
Established in Hong Kong in 1998, QNET is a member of the Direct Selling Association of Malaysia, Singapore, and the Philippines. QNET is also a part of the Hong Kong Health Food Association and the Health Supplements Industry Association of Singapore among others.
QNET is active in sports sponsorships around the world, including football, badminton and more, due to the company's strong belief that the drive, passion and teamwork of sports mirrors that of QNET. QNET recently signed a new and exciting partnership with Manchester City Football Club (MCFC), as its official direct selling partner for three years.