Younique Opens France Market
February 9, 2016
By Nicole Dunkley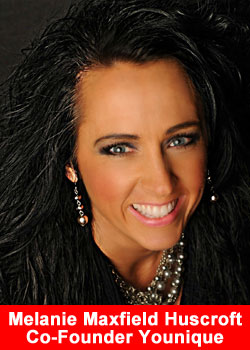 Younique is now signing up Presenters in France, the beauty brand's third European market.
Lehi, Utah-based Younique is a growing presence across social media feeds, where Presenters host virtual parties showcasing its cosmetic and skincare products.
Most popular is the brand's flagship product, Moodstruck 3D Fiber Lashes+. The volumizing mascara often appears in customer photos demonstrating its before-and-after effect.
"Once a Younique customer tries Moodstruck 3D Fiber Lashes+, they simply can't wait to show their 'one eye with and one eye without' picture on social media," said Melanie Huscroft, who founded the company in 2012 with her brother, Derek Maxfield.
"It's one of those things that is simply too good to keep to yourself!"
This month, Younique is inviting residents of France to join its network of more than 265,000 Presenters. The company's full range of products will be available to French consumers in March. With its newest addition, Younique is now operating in eight markets, including the U.S., Mexico, Canada, Australia, New Zealand, the United Kingdom and Germany.
About Younique
USA cosmetics company Younique is on mission to uplift, empower, validate, and ultimately build self-esteem in women around the world through high-quality products. Products that encourage both inner and outer beauty as well as spiritual enlightenment while also providing opportunities for personal growth and financial rewards.
The company's product philosophy of Nature. Love. Science. ensures that its line of cosmetics and skin care products are always found at the intersection of the best that science and nature has to offer. Founded by a brother-sister team—Derek Maxfield and Melanie Huscroft—Younique's mission is to Uplift, Empower and Validate women.