Global Wealth Trade Reaches 150 Countries Milestone
March 1, 2016
By Team Business For Home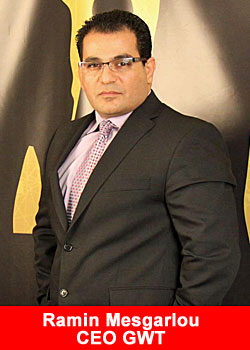 Global Wealth Trade's (GWT Corp) success story is the latest and perhaps the most compelling proof that the Direct Selling / Network Marketing strategy is superior to the traditional retail or franchise methods of distribution.
Established in 2005 and just in time to celebrate their 10th anniversary international convention, GWT Corp is now serving Luxury Consultants in 150 countries in all continents.
Businessforhome.org will be there to cover this momentous event starting with the famous FERI ON THE RUNWAY fashion show where the all new fashion accessories, jewelry and timepieces of the upcoming season are showcased. The enthusiasm and anticipation is an all time high with the announcements of many new releases such as:
FERI Monogram series of designer handbags, shoes and accessories

The collector's edition 10th anniversary FERI Timepieces

The luxury Italian hosiery collection

FERI FLAWLESS anti-aging skin care collection

And much more ..
Businessforhome.org was highly interested in the release of the brand new FERI FLAWLESS anti-aging skincare line up so we asked the Founder Ramin Mesgarlou to tell us more about it.
Ted: Ramin why skin care after ten years of successful operation?
GWT is a luxury designer fashion house and all our competitors like Dior, Chanel, D & G etc all have released their skin care and colour cosmetic line ups so it was natural for us to get in to that space. Color cosmetics (make up) & fragrances will be next".
So GWT is now the latest player in the MLM skincare market place?
YES and NO, let me explain. We are a serious competition to other MLMs because we create the fastest millionaires in the MLM space so naturally we will be attracting many distributors from other skincare companies when our anti-aging skincare line up is released.
However FERI FLAWLESS ANTI-AGING skincare will not be in competition with the rest of skincare companies because our skincare collection will be released at the "Prestige" level and not the "Masstige" level" that everyone else operates in.
What is the difference?
There are three different categories of skincare or color cosmetics:
Drug store goods that are lower priced.

"Masstige" that are in the middle for quality and price

"Prestige" that are the best in quality and higher priced.
So your FERI FLAWLESS anti-aging will be higher priced?
It should be but I have made a business decision to release our Prestige grade skincare collection at around the same price as the other MLM companies.
So you will be offering "Prestige" grade skincare for "Masstige" pricing to all distributors and retail clients?
Again usually other MLM companies are not our competition as we compete at a different level and against the luxury designers of Europe.
However when it comes to anti-aging skincare, we need to stay competitive in price even though we manufacture at a higher level to meet our "prestige" reputation and to provide the high standards that our clients worldwide have become accustomed too for the past decade.
One more question Ramin, people would want to know how your company can expand to 150 countries in less than a decade where their company might be in less than 5 or 10 in the same period, can you please explain?
One simple fact and that is unlike health and wellness and telecom companies, our product lines does NOT require government approval that often prevents entry and expansion to new markets.
So a brand new GWT Luxury Consultant that launched his Virtual Designer Mall (VDM) today can start promoting their products in any country without any restrictions. To make matters even simpler GWT even handles all customs clearance and VAT charges on the behalf of our LCs worldwide.
To close: 100 + years old, multi-billion dollar designers of Europe operate in 40 countries or less utilizing the traditional retail and franchise methods of distribution. GWT has expanded to 150 countries in one decade, so the next time your SUN BLOCK candidate (The Forensic Networker terminology for negative people) tells you " if your products are so good, why aren't they being sold in stores, show them this article and say because MLM is the fastest way to expand globally utilizing word of mouth and internet.
Here you have it and businessforhome.org will be in Toronto amongst the anxious attendees from 50 countries to see the latest fashion creations of GWT and FERI Fashion House 🙂