Jamberry Announces UK Launch Slated For April 2016
March 3, 2016
By Nicole Dunkley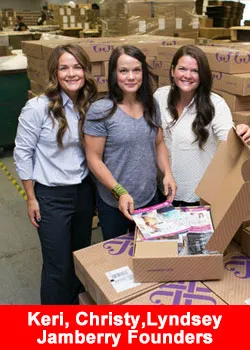 Nail wrap seller Jamberry will make its first move into Europe with an upcoming launch in the United Kingdom.
The Lindon, Utah-based company said it will introduce its collection of nail and hand-care products to UK consumers in April 2016.
Jamberry's independent consultants, more than 40,000-strong, sell the products through home manicure parties and virtual parties on Facebook.
Jamberry was founded six years ago by sisters Keri Evans, Christy Hepworth and Lyndsey Ekstrom. The brand's flagship product is a do-it-yourself nail wrap, or adhesive, applied to fingernails and toenails.
Two new collections of the wraps are released each year, featuring a wide range of colors and designs.
"It had to be doable for people that don't necessarily do girly stuff," Ekstrom said of the product in the company's release. "The nail wraps had to be easy to apply, last a long time and of course be stylish and personal in a way that would speak to a woman's personal tastes."
The company currently sells its beauty products, including a Jamberry Juniors line of nail wraps for girls, in the U.S., Canada, Australia and New Zealand, and international expansion will be a major focus at Jamberry in the next five to 10 years.
About Jamberry
In 2010, a slow and expensive visit to a nail salon sparked the idea for sisters Lyndsey, Christy, and Keri to create a line of do-it-yourself nail wraps. Today, Jamberry is bringing you their creation: one-of-a-kind nail wraps that truly represent your signature style!
Jamberry nail wraps are made with durable materials, so smudges and streaks are never an issue, and can last for up to two weeks on fingernails and four weeks on toes. With over 300 nail wraps in an incredible variety of designs, you can customize, pair, and layer Jamberry nail wraps to create a look that's all your own—all from the comfort of your home.