Oriflame CEO Talks Potential Expansion Into U.S., Brazil
March 29, 2016
By Team Business For Home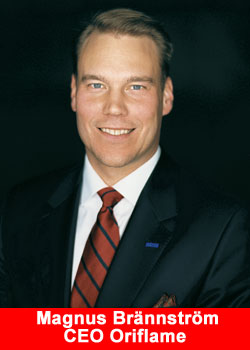 Expansion into the United States and Brazil could come in the not-too-distant future for

Oriflame

, the Swedish cosmetics maker that currently counts Russia as its largest market.
The Swiss company's CEO, Magnus Brannstrom, who will keynote the DSN Global 100 Celebration in April, told DSN that Oriflame is looking to enter the two major markets within a few years.
In 2014, Brazil was the fifth-largest market for direct sales, according to the latest data from the World Federation of Direct Selling Associations. The market accounted for 7 percent of global revenue, trailing only the U.S. and Asia-Pacific powerhouses China, Japan and Korea.
The focus on new markets comes as Oriflame seeks to recover from turmoil in Russia and Ukraine, another key market. Brannstrom said he is "cautiously optimistic" about 2016, after the company's mid-February report that local currency sales in the first quarter were up 9 percent from a year earlier.
Management last month released fourth-quarter profits that beat expectations and discussed bringing back a dividend in the fourth quarter, after cutting the payout for the past two years.
As the company eyes the U.S. and Brazil, emerging markets will continue to drive growth in the long term, with China or India likely surpassing Russia as Oriflame's biggest market, said Brannstrom. Turkey and Mexico also are top markets for the company, which sells its beauty products through more than 3 million Consultants worldwide.
About Oriflame
Founded in 1967, Oriflame is a beauty company selling direct in more than 60 countries. Its wide portfolio of Swedish, nature-inspired, innovative beauty products is marketed through approximately 3 million independent Oriflame Consultants, generating annual sales of around €1.3 billion. Oriflame supports numerous charities worldwide and is a Co-founder of the World Childhood Foundation. Oriflame is a Swiss company group listed on the Nasdaq Stockholm Exchange.