Rain International's Seed-based Nutrition Focus Hits New Heights In Europe
March 4, 2016
By Team Business For Home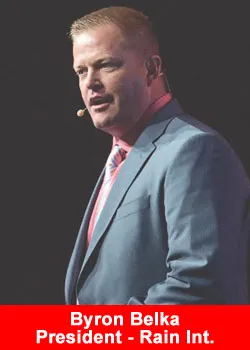 Rain International, the Utah- USA based networking marketing firm specializing in seed-based nutrition and health, continues to scale new heights of success across its rapidly expanding global markets.
Of note is the company's growing business in the European Union. With full or pre-launch operations now in 10 of the Union's 27 countries, Rain International's European business is experiencing phenomenal growth in early 2016, with February sales reaching record highs in the firm's 3 year EU history.
Aaron Palmer, the company's Director of Europe made the following observation from his Budapest, Hungary offices:
"Our company continues to meet and create the growing demand our EU distributors and customers have for our all-natural, seed-based nutritional products, and our record-breaking February sales reflect that trend. Most of our markets doubled sales over January".
February saw two significant events for Rain International: the first, a milestone training event hosted by Jay Noland, Rain International's Chief Sales Officer. The 3 day, February 18-20 event in Budapest attracted over 300 independent Rain Partners. The second, the hiring of Carsten Marx as the firm's first Regional Sales Manager for new markets Germany, Austria and Switzerland.
Director Palmer continued, "As industry veterans and new leaders flock to Rain International's growing Europe operations, we'll continue to carve out our place as one of the leading firms of the future in this exciting nutritional industry. We are headed for an amazing 2016".
About Rain International
Rain International is the original creator of seed-based nutrition. Our experts have gone to the source of plant nutrition to formulate products proven to support healthy lives.
Rain International is more than the products we sell. From the beginning, we set out to make changes to improve the world around us starting with the health industry and moving beyond its borders into global sustainability, education initiatives, elevated lifestyles, and more. We believe that the ultimate human experience we all crave is within everyones reach, and we don't mind leading the way. For more info please visit www.rainintl.com