Talk Fusion To Launch 30 Day Free Trials On April 12th
March 31, 2016
By Nicole Dunkley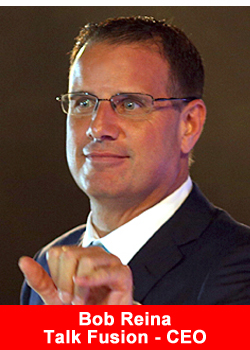 After much anticipation, video marketing industry leader Talk Fusion has announced its 30 Day Free Trials will launch on Tuesday, April 12, 2016. Any person, business or charity will have the opportunity to use all of the products in Talk Fusion's world's first all-in-one Video Marketing Solution absolutely free for 30 days.
Free Trial Users will have full access to all features and functionality of Talk Fusion's product suite: Video Email; Video Newsletters; Live Meetings; Sign-up Forms; and Video Chat. No contracts required, no credit card information needed—no risk involved.
Talk Fusion Founder & CEO Bob Reina is the mastermind behind the bold move which has swept through the direct selling industry and continues to gain momentum.
"There is absolutely no comparison in the world to the value that we bring," Bob said. "We wanted to put Talk Fusion's products into as many hands across the world as fast as we could because we know that when people try our video marketing products, they want to buy them."
Access to current features like real-time tracking reports will enable Free Trial Users to glean insight into their marketing efforts through analytics on open rates, video views, and survey results. Added resources and exclusive white papers will help Free Trial Users and Customers alike learn about email marketing best practices, how to build their client base, and other ways to increase their business.
With the launch date now set in stone, Associates worldwide are sharing their excitement about Free Trials.
"Thank you, Talk Fusion, for everything that you're doing to help us go out and empower businesses and change our lives in the process," said Grand Blue Diamond Ron Wright. "It's going to be an amazing summer!"
"We are so very thrilled about this new model and can't wait for the world to 'Try Before You Buy,'" said Blue Diamond Leslie Brown.
Between the ongoing success of WebRTC Product of the Year Award Winner Video Chat and the widespread popularity of its Free Trials concept, Talk Fusion is earning its title as a global leader in both the video marketing and direct selling industries.
On April 12th, those interested can sign up for their 30 day Free Trial through an Associate's personalized join site or directly from the TalkFusion.com corporate website.
ABOUT TALK FUSION
A global leader in video marketing solutions, Talk Fusion is dedicated to helping grow businesses and change lives through proprietary, patent-pending video technology.
Talk Fusion's innovative products are marketed person-to-person by independent Associates in more than 140 countries.
Established in 2007 by Founder & CEO Bob Reina, Talk Fusion introduced the world's first Instant Pay Compensation Plan. Talk Fusion adheres to the highest ethical business practices and is a member of the prestigious Direct Selling Association (DSA). Reina firmly believes that "with great success comes greater responsibility."
Talk Fusion fosters a strong commitment to Giving Back to family, friends, communities, and animal charities across the world to produce a positive global change. Learn more at www.TalkFusion.com and "Like" Talk Fusion at www.facebook.com/TalkFusion.