Talk Fusion Video Chat Wins 2016 WebRTC Product Of The Year Award
March 18, 2016
By Nicole Dunkley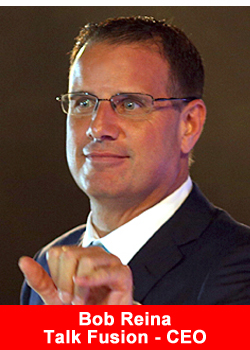 Only weeks after Talk Fusion Video Chat gained international recognition as a top communication program in countries around the world, it has now won a major industry accolade.
Technology Marketing Corporation (TMC) has announced Video Chat as winner of the 2016 WebRTC Product of the Year Award.
"Congratulations to the winners of the 2016 WebRTC Product of the Year Award," said Erik Linask, TMC Group Editorial Director. "The recipients have displayed groundbreaking innovation in the WebRTC space and we look forward to seeing their future successes."
For over 20 years, online marketing leader TMC has recognized technology companies for their accomplishments and advancements in the field.
"This is a huge win for all of us; our IT team is always working hard to change the way the world communicates," said Founder & CEO Bob Reina. "They're the best at what they do and this award is very well deserved."
Director of IT Dr. Jonathan Chen views this achievement as confirmation of an even bigger goal. "For technology to be useful, it must help solving real world needs and must be used by real people," said Dr. Chen. "From the very beginning of Talk Fusion, we kept this philosophy in mind and practiced it in producing our services and products—from Video Email to Video Chat."
Video Chat allows users to communicate face-to-face with anyone, anywhere, on any device—smartphone, desktop or tablet. The Video Chat app is available now for free in the iTunes and Google Play Stores. With the recognition of Video Chat and the company's upcoming launch of Free Trials, there's no telling what the future holds for Talk Fusion.
ABOUT TALK FUSION
A global leader in video marketing solutions, Talk Fusion is dedicated to helping grow businesses and change lives through proprietary, patent-pending video technology.
Talk Fusion's innovative products are marketed person-to-person by independent Associates in more than 140 countries.
Established in 2007 by Founder & CEO Bob Reina, Talk Fusion introduced the world's first Instant Pay Compensation Plan. Talk Fusion adheres to the highest ethical business practices and is a member of the prestigious Direct Selling Association (DSA). Reina firmly believes that "with great success comes greater responsibility."