Talk Fusion Video Chat Now #1 Communication Program In Global Market
March 3, 2016
By Nicole Dunkley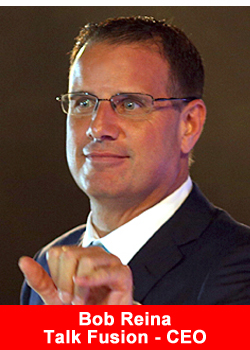 After only a few weeks since its official launch, Talk Fusion Video Chat is already becoming a top communication program in countries across the world. According to Android Market discovery tool AppBrain, Video Chat is now the #1 communication app in Indonesia; it ranks 5th in Japan and 20th in Switzerland.
It's easy to see why it has enjoyed such instant popularity: Video Chat is faster, smarter, and compatible with any device (Android, Apple, Mac, PC, and tablet).
"Love this product! HD quality; nothing else like it in the market! We use it to communicate all around the world!" said Grand Blue Diamond Nancy Burling.
This recent success is just the beginning—global leader Talk Fusion has no intention of slowing down. As the company gears up for the launch of its highly anticipated 30 day Free Trial, international excitement continues to build.
In fact, over the past 90 days, Talk Fusion's Alexa web ranking has vaulted more than 30,000 positions, due to a significant jump in traffic data from both Unique Visitors and pageviews.
Diamonds Susan and Steve Baran are feeling the thrill of things to come. "With all the enhancements, new products, and the continued perfection of the existing products, we are more excited than ever about our future with Talk Fusion!"
With the tremendous support from Associates and Customers across the globe, VP of Training & Development Allison Roberts views Video Chat's success as a foreshadowing of the greater impact free trials will soon have on the market.
"Look at the results from just one of our products and the momentum surrounding it," said Roberts. "Just imagine the success we'll have when we launch free trials of all of our products to the world—the possibilities are endless! I have no doubt that soon everyone will know the name Talk Fusion."
The Video Chat app is available now for free in the iTunes and Google Play Stores. When the Free Trial program launches, those interested will be able to sign up through an Associate's personalized join site or directly from the TalkFusion.com corporate website and get 30 days of full access to the company's entire product line with no credit card required.
ABOUT TALK FUSION
A global leader in video marketing solutions, Talk Fusion is dedicated to helping grow businesses and change lives through proprietary, patent-pending video technology.
Talk Fusion's innovative products are marketed person-to-person by independent Associates in more than 140 countries.
Established in 2007 by Founder & CEO Bob Reina, Talk Fusion introduced the world's first Instant Pay Compensation Plan. Talk Fusion adheres to the highest ethical business practices and is a member of the prestigious Direct Selling Association (DSA). Reina firmly believes that "with great success comes greater responsibility."
Talk Fusion fosters a strong commitment to Giving Back to family, friends, communities, and animal charities across the world to produce a positive global change. Learn more at www.TalkFusion.com and "Like" Talk Fusion at www.facebook.com/TalkFusion.