Top Leader Freddy Melero Joins Modere
March 25, 2016
By Team Business For Home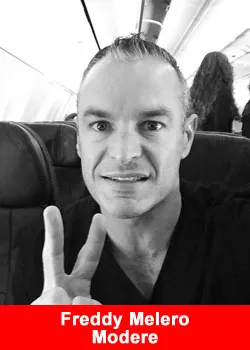 For Direct Selling top leader Freddy Melero, timing is everything, and right now, the timing is perfect for Modere.
"Modere has such a solid base and I'm coming in at a time where a foundation is laid for me to be successful," Freddy stated when asked about why he chose Modere. "And as a parent, I believe and trust in the living clean philosophy of Modere. Offering non-toxic solutions to everyone just comes natural to me."
Freddy has over 18 years of marketing experience and continues to see success and inspire others. He has a strong footprint in the Latino market and is excited to look for more opportunities in Central and South America.
His experience and leadership will play a key role for many Social Marketers at Modere. For Freddy, being a mentor for others is one of the main aspects of why he started down this path.
"At first, I didn't know why I wanted to start my own business. Then I realized it was to inspire others. I love finding people who are hungry and passionate. Those who come with a teachable spirit are those who are successful. I want to lead with actions, not words."
When asked about having Freddy join the Modere family, Justin Serra, Modere General Manager, said,
"Freddy is a leader in the true sense of the word. He works with his people side by side and cares more about their success than his own. Maybe Freddy's biggest accomplishment in his career is that he has helped over 50 families create six figure incomes."
"Freddy is one of the most recognized names in the Latino network marketing community", stated Robert Conlee, CEO of Modere.
"This is due to his successful track record in building teams that have produced in excess of $100 million."
Before he got into marketing, he worked as a Club Promoter in South Beach. His parents had the entrepreneurial spirit and they passed the same passion onto him. When he was introduced to network marketing, he knew the possibilities were endless.
"I instantly fell in love with the business but I fell forward a lot. I was kind of unteachable until I found a mentor. As the saying goes, 'When the student is ready, the master will appear.' I went through a type of rebranding, figured out how to duplicate correctly and created a six- and seven-figure income consistently."
Overall, he wants to make sure he leaves a lasting legacy for his kids.
"If you're not having fun with work and life, you're doing it wrong. I want my kids to see my example and pursue their dreams."
About Modere
Modere offers a category-leading portfolio of Live Clean lifestyle essentials beauty and personal care, health and wellness, and household products that are equal parts safe, high-performing, and beautifully designed. At Modere, we create more than just products; we create meaningful experiences. We believe modern health involves Live Clean: pure nutrition, a clean environment, and safe ingredients across all products: consumable, topical and household.
Modere brings a holistic approach to well-being and its products reflect a commitment to excellence and innovation, with tested formulas proven around the globe for more than 25 years. Modere is headquartered in Springville, Utah and its Marketing Center of Excellence and Public Relations is located in Newport Beach, California.