USANA Appoints D. Richard Williams To Board Of Directors
March 1, 2016
By Nicole Dunkley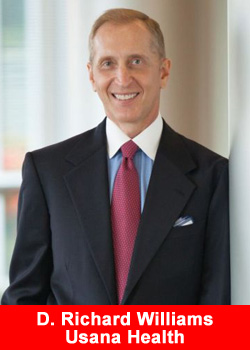 USANA Health Sciences, Inc. today announced the appointment of D. Richard Williams to the company's board of directors effective March 1, 2016.
Mr. Williams joins the board as an independent director and brings a wealth of direct selling experience, as well as finance and corporate strategy expertise. The USANA board now has six members, five of whom are independent.
Myron W. Wentz, Ph.D., Chairman of the Board, commented, "Rick led Primerica as a Co-Chief Executive Officer for more than 15 years and continues to lead their company as Chairman of the Board.
He brings to our board more than twenty years of direct selling experience, along with expertise in a host of operating and financial areas that will provide significant value to USANA. I am delighted to have Rick join our board of directors."
Mr. Williams commented, "After carefully reviewing USANA, and engaging with its leadership and employees, I am pleased to accept a seat on the company's board of directors. USANA's strong corporate values and commitment to improving the lives of families around the world make the company a leader in the direct selling industry. I look forward to serving in this role and am eager to begin contributing to USANA's continued success."
About Rick Williams
Mr. Williams served as the Co-Chief Executive Officer of Primerica from 1999 through March 2015, and worked for the company in various capacities beginning in 1989, including Chief Financial Officer and Chief Operating Officer of the Primerica operating unit of Citigroup.
Mr. Williams has served as a member of the board of directors for Primerica since 2009. He has served as non-executive Chairman of Primerica since April 2015 and as Chairman from October 2009 through March 2015. Mr. Williams serves on the Board of Trustees of the Woodruff Arts Center, the Anti-Defamation League Southeast Region, the Atlanta Area Council of the Boy Scouts of America and the Carter Center Board of Councilors. Mr. Williams received both his B.S. degree and his M.B.A. from the Wharton School of the University of Pennsylvania.
About USANA
USANA develops and manufactures high-quality nutritional supplements, healthy foods and personal care products that are sold directly to Associates and Preferred Customers throughout the United States, Canada, Australia, New Zealand, Hong Kong, China, Japan, Taiwan, South Korea, Singapore, Mexico, Malaysia, the Philippines, the Netherlands, the United Kingdom, Thailand, France, Belgium, Colombia and Indonesia.