WOR(l)D Global Network Appoints Chanida Puranaputra As Master Distributor
March 21, 2016
By Team Business For Home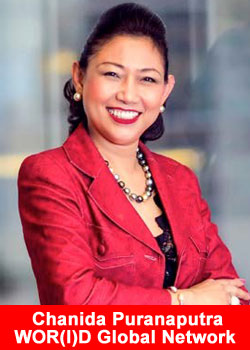 WOR(l)D Global Network is definitely experiencing exceptional momentum and the interest around the first technology company in network marketing is growing day after day.
Today they announce that Chanida Puranaputra , International Top Leader with more than 25 years of experience in the Network Marketing profession, has joined WOR(l)D as Master Distributor.
Chanida has trained and produced more network marketing millionaires, multimillionaires, and top leaders than anyone before her.
Residing in Los Angeles, but originally from Thailand, she has spent a majority of the past two decades in direct sales and network marketing, building and occupying top leadership positions in several premiere companies.
During that time, not only did she pioneer new and effective marketing strategies for her business, speak in more than 25 countries and had her training resources translated into over 10 languages, she also strengthened and expanded the reach of network marketing into the Southeast Asia market, as well as the Asia Pacific region.
These countries now enjoy a flourishing network marketing presence because of her influence and expertise. She successfully holds the title of Top Income Earner, Leader of the Year, Millionaire club, all while being part of the Advisory Board – masterminding ways to take the network marketing business model to the next level.
"This is an exciting challenge again in my life." Chanida says.
"I truly believe that WOR(l)D will be the next Billion-Dollar sensation because of the combination of the company's unbelievable and breakthrough ideas, its CEO Fabio Galdi, and the power of network marketing. This is exactly what gets me excited.
Without a doubt, WOR(l)d has truly exceeded all my expectations. I especially want to thank the management team for their professionalism. I have never met a team more humble, serious, and clever than theirs. I also want to express my gratitude to Lamia Bettaieb for paving the way for women by being the first woman in the Top 200 Earners of the network marketing profession.
I admire her dedication, excitement, and servant leadership. This is just the beginning of a new era for network marketing, and a lot of my friends and colleagues are watching WOR(l)D as the opportunity of a lifetime.
"Chanida has brought to us an unbridled enthusiasm," were the first words of Fabio Galdi CEO and President of WOR(l)D Global Network.
"After being a technology company for over 5 years, we are approaching an important turning point with the release of some cutting-edge products that will smash the paradigms in the tech sector, bringing WOR(l)D to the next level.
The experience, attitude, and energy of Chanida are the right ingredients to transform our already successful story into a promising future of massive growth and sustainable success for our company, our leaders, and our network. We couldn't be more excited to build the next Millionaire Generation in network marketing together with Chanida.
The first official appearance of Chanida in a WOR(l)D event is scheduled for March 18-19, in Dubai , during the "WISH YOU wear HERE" event, the official event for the presentation of WOR(l)D | wear division.
About WOR(l)D GN
WOR(l)D also referred to as World GN is a global multi million dollar company that offers services in the telecommunications, renewable energy, technology and mobile Telecommunication.
Its current headquarters is in the United States with its major offices in the United States, United Kingdom, Russia, Moscow, Ireland, China and Singapore. For more information please visit www.worldgn.com