World Media & Technology To Launch "WOR(l)D | Wear" Range Of Connected Wearable Products
March 15, 2016
By Team Business For Home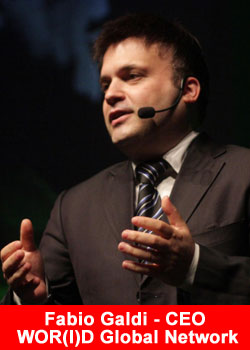 World Media & Technology Corp. (OTCQB: WRMT), today announces that it is to launch a new range of smart wearable products this year, targeting the health and lifestyle markets worldwide, following the successful development, launch and recent first shipments of the innovative SPACE LUMINA™ Glasses.
World Media & Technology is now focussed on increasing its share of the wearable technology market, building on the recent success of its first wearable product and also to increase the product range that will operate seamlessly on Wor(l)d's revolutionary mCell5GHz international network and other mobile networks.
According to Business Insider magazine, "In just a few years, there could be more people using wearable tech devices than the population of the US and Canada combined."
Analysts Murphy and Fischer from Piper Jaffray "believe the target market for wearable tech includes all people 15 years and older living in developed nations — or around 1.08 billion people." These analysts expect a 20% to 30% adoption rate, indicating a potential market of 230-385 million units.
In January 2016, Research and Market, the world's largest market research store, reported that the market will "reach approximately $33.4 Billion by 2020."
"We are particularly pleased to have our smart wearable product, SPACE LUMINA™ Glasses, in the market ahead of Microsoft and many of our other competitors, and also to show the markets we can deliver innovative products from concept to profitable revenues. This is only the beginning for us,"
says Fabio Galdi, CEO, World Media & Technology.
"Every day we receive tremendously positive feedback from our customers who have received our ground-breaking product, SPACE LUMINA™ Glasses. Our successful market deployment confirms our capability as an emerging leader in the global wearable tech market, which is set to explode."
"Now that we are enjoying a return on our investment in this sector, we will continue to invest in wearable technology and to deliver creative and exciting products for our growing global user base.
With this in mind we are establishing 'Wor(l)d | Wear,' a division dedicated to the development of health and lifestyle wearable products so that we can continue to deliver on our corporate promise: 'Join Wor(l)d and change your lifestyle.' We look forward to releasing details of these developments as they become available and to continue our revenue and profits growth in order to create value for our shareholders also."
About WOR(l)D GN
WOR(l)D also referred to as World GN is a global multi million dollar company that offers services in the telecommunications, renewable energy, technology and mobile Telecommunication.
Its current headquarters is in the United States with its major offices in the United States, United Kingdom, Russia, Moscow, Ireland, China and Singapore. For more information please visit www.worldgn.com