Amway India launches New Attitude Sunscreen
April 7, 2016
By Nicole Dunkley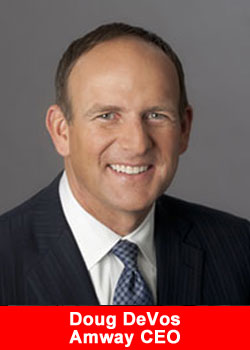 Amway India, the country's leading direct selling FMCG Company, has launched a new Attitude Sunscreen with a potent combination of SPF 30, PA +++ and Dry Touch Formula.
Priced at Rs. 499/-, the newly launched Attitude Sunscreen cream has been dermatologically tested and offers a non-greasy experience. Attitude is a premium skincare and cosmetics brand which understands the needs of the youth.
Speaking on the occasion, Sundip Shah, Chief Marketing Officer, Amway India, said, "Skin protection from harmful UVA and UVB rays of the sun, especially in summers, is an important skin care need.
Our research indicated that the youth today is seeking a non-greasy yet effective Sunscreen application. Taking cognizance of that, we have formulated a non-greasy Dry Touch formula, with SPF 30 and PA+++ for protection against UVB and UVA rays respectively. The Attitude Sunscreen cream, specially developed keeping Indian skin in mind, is meant for the bold, confident and modern youth."
Attitude Sunscreen cream is In-Vivo Tested at an external Laboratory at USA, and is proven to deliver SPF 30 and PA+++ giving holistic protection against both UVA and UVB Solar Ultraviolet Radiations.
Amway India has strategically launched the product just before the on-set of summers. The company is currently gearing up to train its distributors about the benefits of the newly launched Attitude Sunscreen cream so that they go out retail this product across the country. The product will be sold exclusively through Amway distributors.
Attitude Sunscreen is to be applied on all exposed skin including ears, neck and hands. The sun protection cream is to be used at least 15-20 minutes before one step outs in the sun and for best results should be used every 3 – 4 hours.
Attitude offers a range of skin care products and a range of bold color cosmetics for the youth. Its skincare portfolio has a variety of products like Cleanser, Toner, Moisturizer, Sunscreen Lotion, Face Wash, Face Masque, Hand and Body Cream, Foot Cream and the newly launched Be Bright range of products. At Amway, we believe that beauty is all about attitude!
About Amway
Amway is a $9.5 billion direct selling business based in Ada, Michigan, USA. Top-selling brands for Amway are Nutrilite™ vitamin, mineral and dietary supplements, Artistry™ skincare and color cosmetics and eSpring™ water treatment systems – all sold exclusively by Amway Business Owners. Global sales in 2014 made Amway the No. 1 direct selling business in the world, according to the Direct Selling News 2015 Global 100. The company's annual sales figure includes revenue from direct selling operations and other business holdings.
*Based on population data available about the specific markets and surveys conducted in China, India, Japan, Korea, Malaysia, Russia, Taiwan, Thailand, the United States and Vietnam between May 2013 – June 2014 by an independent research firm.