doTERRA Ranked In Top 10 For Best Midsized Employers
April 10, 2016
By Team Business For Home International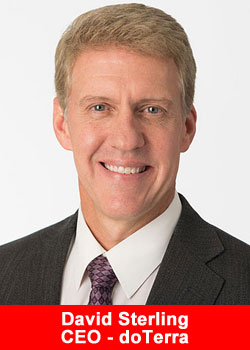 doTERRA, Utah-based company has been included on Forbes' "America's Best Employers" list for 2016.
The company, doTERRA, which specializes in essential oils, was ranked the No. 10 best place to work out of the top 250 midsized employers nationally.
The company was also ranked the No. 1 employer in the mountain state area in addition to being listed in the stop spot for enterprise in Utah.
This was kind of a surprise and it was energizing to hear that Forbes had gotten wind of us, said McKay Brown, senior director of corporate marketing. "I think one of the things that differentiates doTERRA is the mission and the purpose of the company."
The Forbes annual ranking of midsized and large employers takes data from workers based on willingness to recommend the business they work for as well as asking employees to include good or bad employers in industries other than their own.
Intermountain Healthcare was ranked by Forbes in the number 95 spot out of the 500 total employers ranked in the 2016 list, which was put together after looking at more than 30,000 U.S. workers in 25 industries.
Kirk Jowers, doTERRA's corporate relations vice president, said the company sources its oils from 40 different countries and sells its products in 73 countries.
He said unlike many direct-selling companies, doTERRA has made Utah a large part of the company's production while the state has also been able to provide a much needed language capability to ensure growth.
"Utah is very important for doTERRA," Jowers said. "We have over 50,000 distributors and monthly customers who have a very strong connection to the St. George area."
The company was started in Utah County in 2008 by health care and business professionals first offering 25 single oils and 10 oil blends. It has since expanded to include more than 1.5 million independent distributors around the world.
Jowers said having the founding executives still with the company has been a fundamental aspect to keeping strong relationships with employees.
"Each employee is very personal to them," Jowers said. "They know most of them, a lot of them have grown up with the company and understand why it was started and the principles and values, and so it really is more of a family."
Jowers added that many employees were customers before they started working with the company.
Along with manufacturing and distributing essential oils, doTERRA provides spa, personal care and dietary supplement products.
Though doTERRA originated in Utah, there are now more than 2,000 people employed at the company worldwide with the majority of employees working out of Utah.
And even with doTERRA's growth, there still more to the company's plan than simply selling products, according to Brown.
"So many companies exist just to make money to sell a product, but what I've noticed since joining doTERRA is that there is a bigger mission that is really centered around helping other people."

Brown said. "When we have service projects and opportunities to help out; we're really excited about that."
About doTERRA International
doTERRA is a world leader in the sourcing, testing, manufacturing, and distribution of CPTG Certified Pure Theraputic Grade essential oils through a global network of Independent Product Consultants. In addition to a premium line of single-plant extracts and proprietary essential oil blends, the company offers oil-infused personal care and spa products, dietary supplements, and healthy living products for the home.