Kannaway Appoints Blake Schroeder As CEO
April 9, 2016
By Nicole Dunkley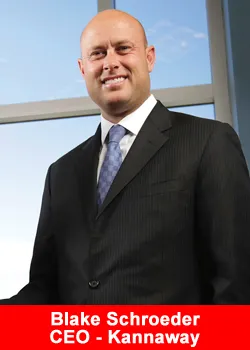 The first hemp lifestyle direct sales company to offer cannabidiol (CBD) oil products, Kannaway, LLC, is excited to announce that the Company is expanding its executive leadership team with the addition of Blake Schroeder as Chief Executive Officer.
Schroeder brings significant executive-level experience in multiple international sales organizations.
"Blake has tremendous pedigree in the direct selling space as well as the world of natural products," states Dr. Stuart W. Titus, CEO of Medical Marijuana, Inc. (OTC:MJNA) the parent company of Kannaway. "His proven track record and leadership experience makes him an ideal candidate to bring forth the promise of Kannaway."
Before joining Kannaway, Schroeder was the Chief Operating Officer of Forevergreen International, where he was responsible for global operation of the multinational organization, including oversight of a global supply chain. He holds a B.S. in Finance from Utah State University and a law degree from Syracuse University College of Law.
"My career has been in marketing natural products, and opening international marketplaces to those products," Schroeder said when asked about the strengths and experiences that will make him a valuable asset to Kannaway.
"Kannaway is a company with incredible natural products that can and should be marketed and sold, and more importantly, consumed, all over the world."
Schroeder continues, "I was invited to spend time with the management of Kannaway's parent company, and after a few visits I was crystal clear about the vision and passion behind the company, as well as the opportunity to lead in an emerging space. The choice was simple."
"I've helped direct sales organizations flourish throughout my career. The Kannaway story needs to be shouted from the rooftops, all over the world. I will help the company develop an inclusive message that can attract people of all types," concludes Schroeder.
Titus continues, "As Blake got to know our executive team, and vice versa, it was obvious there was great chemistry. We look forward to Blake making a huge impact in 2016 and beyond!"
The current executive management team at Kannaway is Blake Schroeder, CEO; Jeff Rogers, COO; and Brad Tayles, President.
About Kannaway, LLC
Kannaway, LLC, is a network sales and marketing company specializing in the sales and marketing of hemp-based botanical products. Kannaway currently hosts weekly online sales meetings and conferences across the United States, offering unique insight and opportunity to sales professionals who are desirous of becoming successful leaders in the sale and marketing of hemp-based botanical products.