LifeVantage Issued Patent For TrueScience Product Composition
April 15, 2016
By Nicole Dunkley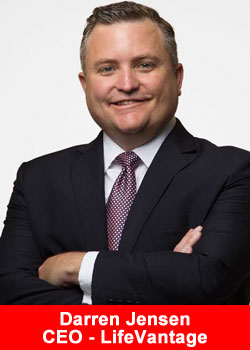 LifeVantage Corporation (Nasdaq:LFVN), has announced the receipt of United States Patent No. 9,289,374 B2, issued March 22, 2016, for topical compositions and methods for reducing oxidative stress for its TrueScience skin care products.
According to the patent, topical application of the compositions in the TrueScience skin care products have been demonstrated to stimulate the reduction of oxidative stress and improve the appearance of the skin's epidermal rete ridges, which are believed to improve the appearance and overall health of the skin.
"The receipt of this patent continues to differentiate LifeVantage from other companies in the direct selling and skin care industries," said LifeVantage President and Chief Executive Officer, Darren Jensen.
"The peer reviewed studies related to our products demonstrate their effectiveness and position LifeVantage at the forefront of skin care."
About LifeVantage Corporation
LifeVantage Corporation (Nasdaq:LFVN), is a science based network marketing company dedicated to visionary science that looks to transform health, wellness and anti-aging internally and externally at the cellular level. The company is the maker of Protandim®, the Nrf2 Synergizer® patented dietary supplement, the TrueScience™ Anti-Aging Skin Care Regimen, Canine Health, the AXIO™ energy product line and the PhysIQ™ smart weight management system. LifeVantage was founded in 2003 and is headquartered in Salt Lake City, Utah.