Network Marketing In India
April 24, 2016
By Team Business For Home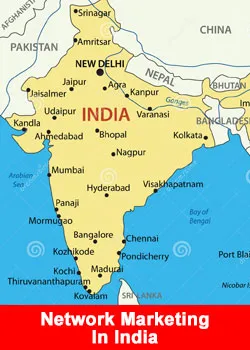 India and network marketing, a sleeping Giant is awakening.
Although India is the home of 1.3 billion people with over 50% youth population and the 3rd largest economy (PPP) in the world, Multi-Level Marketing is only one billion dollar in annual sales in India and growth is stagnant.
Lack of clarity in law and countless Money Chain/Ponzy schemes are responsible for the same. But Legalization process of Multi-Level Marketing (MLM) in India is getting completed now. MLM started in India by European major Oriflame in 1995.
Although Direct Selling was legal as per the Indian law, Multi-Level Marketing often confused with Money Chain, which is banned by Prize Chit & Money Circulation Schemes (banning) Act, 1978. Many Fly by Night operators mushroomed in India in the name of MLM in the last decade.
Situation became critical when many innocent investors committed suicide due to the collapse of Kolkata based Saradha Scam in April 2013, in which 1.7 million people lost $5 Billion. Subsequently Amway India's CEO was arrested by Police in the next month (may 2013) suspecting them also is as a Ponzy Scheme like Saradha. Total MLM industry in India got a stand still.
The trade unions of mainstream political parties in the state of Kerala organized scattered MLM Distributors. They conducted series of activities including hunger strikes, demonstrations, lobbying etc. for reinstating the MLM industry, arguing that MLM and Money Chain are different and 1978 law is not intended to stop 1995 born MLM in India.
Finally on 13th March 2015 Kerala Finance Bill gave legal acceptance for Multi-Level Marketing. As a result 29th July 2015 extra ordinary gazette published by the State Govt. of Kerala amended the Kerala Value Added Tax Act to include Multi-Level Marketing among commercial activities.
Subsequently Commercial Taxes dept. issued the circular on 11th Nov. 2015 for the tax registration under Multi-level Marketing category, which is the only way you can prove in India that you are an MLM Company (which is legitimate) not a Money Chain (which is illegitimate).
One important aspect in the law is companies have to bill and sell the products on MRP (Maximum Retail Prize) and they can give the retail profit back as incentive to distributors after deducting Income Tax in the form of TDS. This will ensure no sales tax loss for the state government and income tax loss for the central government.
The latest development is Companies compulsorily have to give a notary certified affidavit in order to get the sales tax registration under MLM category. Its model is published on 2nd April 2016 https://keralataxes.gov.in/Forms/MultiLM_Affidavit_opt.pdf and all MLM distributors compulsorily undergo a full day training about the Do's and Don'ts of Direct Marketing at Gulati Institute of Finance & Taxation (GIFT)https://gift.res.in/netmark/
Since implementation of regulation of Multi-Level Marketing comes under the purview of state governments as per the Indian federal system, Central government is evaluating the development in the state of Kerala before issuing the mandate to remaining 28 states to implement it in their respective states. Good days are not far for Indian Multi-Level Marketing industry.
For more info please contact Rajani Sharma