The Direct Selling Industry Contributes To Economic Prosperity Of South Africa
April 26, 2016
By Nicole Dunkley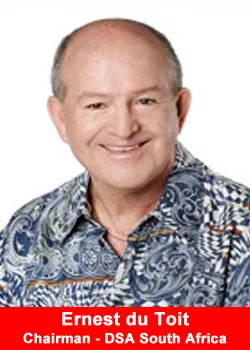 From health and wellness products to financial solutions – the direct selling industry is a somewhat low-profile powerful Industry – having contributed a massive R7, 74-billion to South Africa's economy in 2014 alone.
And whether it is through part time involvement or a fulltime business, there are approximately 1.4 –million people earning a living within the industry, making it a significant contributor to the economy.
The Direct Selling Association of South Africa (DSASA), the formal association for the local industry, represents 38 direct selling companies that distribute goods and services through independent direct selling distributors, to consumers, in a face-to-face model, away from fixed retail locations.
According to DSA chairman Ernest du Toit, the industry is not only an important contributor to the economy, but a key player at a time when jobs are scarce and money is tight.
"The direct selling industry is a significant economic enabler, adding value to peoples' lives and giving them unique opportunities for wealth creation. It is a credible and viable mechanism for generating income and growing the economy, governed by a robust code of ethics and product quality controls," says Du Toit.
The DSA is the protector and custodian of the interests of all stakeholders in the direct selling industry, and the authoritative regulator and source of advisory services and benefits for the industry.
It is an industry that has taken off massively in many countries including the United States, where 1 400 direct selling companies exist, offering every imaginable product and service including selling electricity in a direct selling model.
"There is no limitation to what you can sell – you can sell virtually everything as long as the value add is clear and evident," says Du Toit.
While direct selling is happening across South Africa, it is clear that Gauteng remains the engine room – delivering 42% of all the sales value, followed by KZN at 12.8% and then the Western Cape at 10%.
At the start of 2015 the direct sales industry had increased by 129 803 independent business owners, over the previous year – showing a growth of 13.3%.
"Direct selling has a much further reach than retail outlets have. Retail has a fixed footprint in a geographic location whereas direct selling has an impact as far as a courier can reach. It offers far better penetration into the rural markers, but without the costs applicable in the urban market," says Du Toit.
The industry as a whole reflects the population profile of South Africa. This is seen in the racial split of consultants – the 2014 consultant figures show that 83% were black, 14% were white, 2% were Indian and Asian and 1% coloured.
In 2014 Independent Distributors collectively earned R3, 929 million with 23,2% active sales people being fulltime in the business and 76,8% working part time. This is evidence that there are significant business opportunities in the industry for everyone.
Direct sales distributors generally fall into two categories – those who buy products that are used regularly (numbering 784 822 people in South Africa), and those that build their operation into a sales business in which they and others buy products essentially to use and sell (320 981 sales people). Together this means that in 2014 there were 1 105 803 independent business owners operating in South Africa.
"Direct selling companies offer basic business skills to people interested in joining the industry – providing them with effective presentation skills courses, focused business solutions and other programmes where we see introverts and shy people turn into confident professionals with solid skills.
They are provided with financial training to understand how to distinguish business expenses and revenue from personal finances, and then how to invest money in growing their business," says Du Toit.
"When the economy is on a downturn, consumer behaviour is often based on products which are perceived to be affordable and offer value for money. When money is tight, people can't afford expensive imported items on retail shelves. There are always sales and business opportunities, irrespective of decreasing disposable income, as there are different products available at different prices." It all comes down to perceived value for money.
"Also, when there is an increased need for extra income, people turn to direct selling to supplement their earnings," he added, stating that the industry was currently expecting a 5%, year on year, revenue growth.