Thirty-One Gifts CEO Cindy Monroe Inducted Into Enterprising Women Hall Of Fame
April 6, 2016
By Nicole Dunkley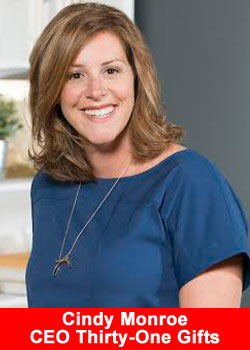 Enterprising Women magazine has recognized Cindy Monroe, President and CEO of Thirty-One Gifts, with induction into the Enterprising Women Hall of Fame, an honor extended to one woman entrepreneur each year.
"We are honored to induct Cindy Monroe into our Hall of Fame for the important work she is doing to advance women's entrepreneurship and create a lasting legacy in the women's business community," said Monica Smiley, Publisher and CEO of Enterprising Women.
Monroe founded Thirty-One Gifts in 2003, aiming to create a business opportunity for women with families. Today, about 85,000 Consultants across the U.S. and Canada sell Thirty-One bags, jewelry and home organization products, supported by a corporate staff of more than 1,000.
The Columbus, Ohio-based company generated revenue of $643 million in 2014, earning the No. 28 spot on the DSN Global 100, a list of the top direct selling companies in the world.
In addition to building a thriving business, Monroe founded Thirty-One Gives, a philanthropic initiative dedicated to empowering girls, women and families. Since its launch four years ago, Thirty-One Gives has donated more than $80 million in cash and products to nonprofit partners, including Girl Talk and Ronald McDonald House Charities, the fund's two national mission partners.
About Thirty-One Gifts
Founder, President & CEO Cindy Monroe started Thirty-One in her basement in 2003. From those humble beginnings we've grown into one of the most successful direct-selling businesses in the world, with more than 90,000 independent Sales Consultants across the U.S. and Canada.  Thirty-One Gifts is about so much more than just a bag. We are a family of individuals who share a passion for empowering women, and who are committed to celebrate, encourage and reward others for who they are.