USANA Rankes 21st Largest Revenue Generating Company In 2016
April 13, 2016
By Nicole Dunkley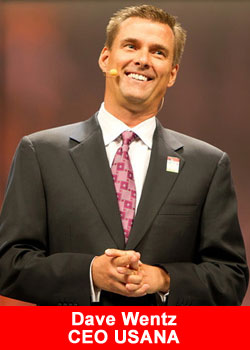 Earlier this week, Direct Selling News revealed its seventh annual DSN Global 100 list, an exclusive ranking of the top revenue-generating direct selling companies in the world. Based on 2015 revenues alone, USANA Health Sciences was ranked as the 21st on the DSN Global 100.
USANA's recognition by Direct Selling News as the 21st largest direct selling company is a reflection of the dedication of our Associates and employees, said Dave Wentz, co-CEO of USANA. Our recognition by DSN is also reflective of USANA's vision of improving the health and nutrition of individuals and families around the world.
Created to acknowledge the successes of individual direct selling companies and provide a clear picture of the magnitude of the industry, DSN created the Global 100 list as a commitment to showcasing a transparent industry by providing credibility and research support for those seeking information on direct selling companies. This year's list of companies ranged from 17 countries.
Last year was another outstanding year for USANA, said Kevin Guest, co-CEO of USANA. We generated our 13th consecutive year of record sales, reported our highest net earnings in the history of the company, as well as a record number of active customers. We believe that 2016 will be another outstanding year for USANA and anticipate surpassing $1 billion in net sales.
Direct Selling News also recognized the top 50 direct selling companies in North America, drawing attention to the most notable businesses in one of the world's largest direct selling markets. USANA was on the list at no. 12.
About USANA
Founded in 1992, USANA Health Sciences (NYSE: USNA) is a U.S.-based nutritional company that manufactures high-quality supplements, personal care and healthy products in its FDA-registered facility in Salt Lake City.