WorldVentures Ranks 32 On DSN 2016 Global 100
April 13, 2016
By Nicole Dunkley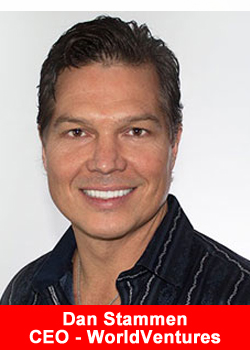 WorldVentures, a global leader in the direct-selling travel sector, continues to propel through the ranks from 65 in 2014 to 47 in 2015, and now to 32 on Direct Selling News magazine's Global 100 list.
The company was also placed 20 within the DSN North America 50 list. The announcement was made during the 7th annual DSN Global 100 Celebration at the Omni Hotel in Dallas, where hundreds of direct-selling executives gathered to honor one another's achievements.
This is the seventh consecutive year WorldVentures has been named to the DSN Global 100—the most prestigious ranking for direct selling companies in the world–recognizing major industry players on an international scale. Both the global and North America lists are based on revenues from the previous year.
As we just celebrated our 10-year anniversary in December, this recognition is affirmation that we are on the right path to making WorldVentures the foremost name in the direct-selling travel sector, said Founder and Chief Visionary Officer Wayne Nugent. As we enter into the next decade we have plans to bring exciting innovations, business opportunities and one-of-a-kind experiences to our members worldwide.
WorldVentures CEO Dan Stammen agreed, adding Now in our fifth consecutive year of record-setting growth, WorldVentures is fulfilling the vision we had over 10 years ago upon founding the company. It's humbling that we continue to be honored among the most respected pioneers in this industry.
Eddie Head, President WorldVentures Holdings, LLC looks forward to continued success. We make our projections based on what we believe is possible.
About WorldVentures
WorldVentures Marketing, LLC, a privately held company based in Plano, Tex., is a global travel club that sells memberships providing a diverse set of lifestyle products and experiences. The company uses the direct sales model to go to market with active Representatives and Members in 29 countries.