Zija Featured On Direct Selling News Global 100 & North America 50
April 15, 2016
By Nicole Dunkley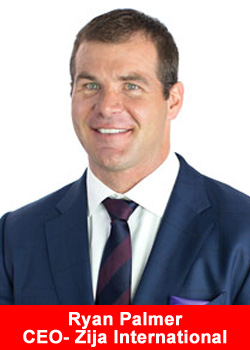 Zija International is excited to be a feature on Direct Selling News (DSN) Global 100 and their North America 50 lists.
The DSN Global 100 and North America 50 offers a unique perspective on the global impact of the industry on economic and social realms.
It provides a range of mutual learning not only for industry members but also for researchers, investors and—most important—those seeking opportunities within the industry.
By being featured on these lists, companies can be acknowledged for their achievements and gain recognition as the largest direct selling businesses in the industry.
The magnitude of the direct selling industry can be seen through the significant revenues and range of markets in which companies exist globally. The lists are published in the June issue of Direct Selling News.
ABOUT ZIJA INTERNATIONAL
Zija International, a privately-held and privately-funded business founded by Kenneth E. Brailsford and led by Ryan Palmer, develops natural health, wellness, and beauty products. The company operates in more than 50 countries worldwide, pioneering the #NaturalHealthRevolution to help individuals achieve Life Unlimited.
Zija has seen consistent growth every year since it was founded over 9 years ago and has received several awards, including and being named the Fastest-Growing Company in Utah by Utah Business Magazine. It has also been recognized on fastest-growing and top-revenue lists by Inc. Magazine, Direct Selling News and Utah Valley Magazine, and has received industry-specific MarComm, American Business (Stevies), and Davey Awards.
With corporate offices located in Lehi and more than 4 million sq. ft. of state-of-the-art warehouse, shipping and manufacturing facilities located in Utah, United States, Zija International employs more than 200 individuals and has the capacity to grow to more than two billion dollars in annual sales.