Amway Korea: Sales Grow 261 Times Over 25 Years
May 19, 2016
By Nicole Dunkley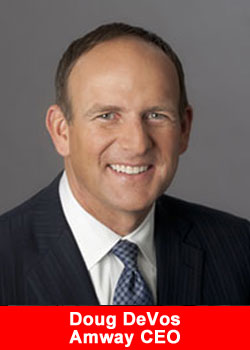 Amway Korea has achieved a remarkable growth over the past 25 years, offering consumers a wide range of high-quality, reliable consumer products.
The Korean unit of U.S. multi-level marketing company has been growing together with Asia's fourth-largest economy, to become one of the most trusted corporate citizens in the country.
Amway Korea, which has become an industry leader since its foundation in 1991, is widely known for its unique distribution system in which Amway business members sell directly to consumers.
Amway distributes more than 500 kinds of nutrition, beauty and home care products, such as cosmetics, toothpaste, dietary supplements, detergents and soaps. Its top-selling brands include Nutrilite, Artistry, and eSpring.
It earned 1.07 trillion won in sales last year, up 261-fold from 4.1 billion won in 1991.
In 2010, the company launched a distribution center in Busan, which is responsible for the distribution of Amway products in Japan, Thailand, Hong Kong, Taiwan and Singapore.
Celebrating its 25th anniversary this year, Amway Korea has renewed its pledge to offer high-quality, safe consumer goods at affordable prices, while hiring more workers and building more business-related facilities.
Our continued growth has been propelled by an evolving product portfolio, which has expanded to reflect changing consumer needs in Korea, as well as by the mutual growth strategy with local communities, an Amway Korea spokeswoman said. Amway Korea has expanded its product portfolio consistently, and today it markets as many as 538 products here.
In its early years, the company sold only 5 different types of detergents approved by the U.S. Environmental Protection Agency. Then, it began to expand its product lineups with the launch of Nutrilite dietary supplements in 1992, Glister dental care products in 1994 and Artistry cosmetic products in 1998.
In the early 2000s when more people became aware of the wellbeing, Amway realigned its product portfolio, centering on Nutrilite dietary supplement products, to brand itself as a business providing wellness to the public.
However, it has not been a smooth sailing for Amway Korea over the years. Public misunderstanding and bias against multi-level marketing, the company's unique distributing model, was a major barrier to its business in Korea.
In the early years when the multi-level marketing industry was not properly governed by laws and regulations, stories about victims of illegal pyramid schemes made the public turned against the industry.
Facing the challenging environment, we tried hard to overcome the negative perception and bias toward us and our business model, the spokeswoman said. As part of such efforts, we needed to focus more on sharing growth with our local business partners and communities.
In 1997 when many small-and medium-sized enterprises (SMEs) in Korea were struggling in the aftermath of the Asian financial crisis, Amway Korea decided to expand cooperation with small companies. It launched the One-for-One Project, which was to combine SMEs' products with its expertise in distribution.
In celebration of its 25th anniversary in Korea, Amway launched the One-for-One Good Store Project early this year, an extended concept of the initial growth-sharing project to expand its reach into social businesses.
In line with its ongoing commitment to the One-for-One project, Amway Korea has developed and marketed a variety of wellness solutions for Koreans by leveraging its competitiveness as a maker of the world's No. 1 dietary supplement brand Nutrilite.
As part of its commitment, the company developed Nutrition Quotient (NQ) with the Korean Society of Nutrition in 2012. The NQ is designed to measure the nutritional balance in children through an easy and simple diagnosis of five nutritional factors: balance, moderation, diversity, rules and practice.
The NQ has been used for Amway Korea's pediatric nutritional education and firsthand experiential program Health Guard since 2007.
In 2015, the program reached out to 135,300 children in 63 schools and community welfare centers nationwide, inviting the young participants to have firsthand experience with nutritional value.
SOURCE: Korea Times
About Amway
Amway is a $9.5 billion direct selling business based in Ada, Michigan, USA. Top-selling brands for Amway are Nutrilite™ vitamin, mineral and dietary supplements, Artistry™ skincare and color cosmetics and eSpring™ water treatment systems – all sold exclusively by Amway Business Owners. Global sales in 2014 made Amway the No. 1 direct selling business in the world, according to the Direct Selling News 2015 Global 100. The company's annual sales figure includes revenue from direct selling operations and other business holdings.