Glen Jensen Rejoins Agel As Group CEO
May 5, 2016
By Team Business For Home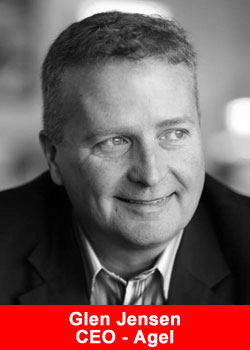 Glen Jensen, who founded Agel Enterprises and led it to significant global growth during its first six years, is returning to the company in the newly-created position of Group CEO.
The announcement was made today by John Rochon Jr., founder of JRJR Networks [NYSE MKT: JRJR], which acquired Agel in 2013. Mr. Rochon also serves as Agel's chairman.
This is a great day for Agel, an emotional homecoming and a powerful affirmation of Agel's future, said Mr. Rochon. Glen passionately shares my ultimate dream of our becoming the largest direct-to-consumer company in the world by 2033. With his return to lead Agel, I believe we've just taken another step toward that dream.
Glen Jensen was the heart and soul of Agel in the days when he established it as a successful business and led its growth across the globe. Glen's return to Agel after a five and a half -year absence sends the bold message that Agel is back and has found its voice again, said Mr. Rochon.
When Steve Jobs returned to Apple after a 12-year absence, there was a sense of energy and renewed confidence. I believe we are going to see in Agel a feeling of celebration over the return of the person who started it all, said Mr. Rochon.
I'm beyond thrilled at returning to Agel, a company I truly love and the company that I envisioned as a way to change lives around the world, said Mr. Jensen.
This is a deeply emotional moment for me. I am so thrilled that John Rochon Jr. and the team at JRJR Networks have invited me to come back home again and help them lead Agel to what I know is going to be massive global growth.
Mr. Jensen has spent over two decades in the network marketing industry. He began as a customer service representative at NuSkin while a college student and rose quickly to lead successful companies and organizations around the world. In 2004, he developed the concept that would launch Agel as a direct-to-consumer provider of nutritional gel products offered by an independent network of entrepreneurs.
Under his leadership, Agel grew into one of the world's top 100 direct selling companies, reaching #56 on the Direct Selling News Global 100 for 2008. For the past two years he has been CEO of Innovative Global Inc., a direct seller of skin care and nutritional products operating primarily in Asia.
Prior to Innovative Global and Agel, Mr. Jensen had been an executive in several other direct-to-consumer companies, including Neways and Synergy, which he founded. He has served as a member of the CEO Council of the World Federation of Direct Selling Associations.
The innovation of suspension gel technology that we created in Agel redefined the whole nutritional industry. Even after leaving Agel a few years ago, I always hoped that somehow I might be able to re-unite with the wonderful Agel sales network and resume this incredible journey.
Now, thanks to John Jr. and JRJR Networks, that dream has come true. I can't wait to get started on the next chapter of Agel's success.
In addition to being Group CEO, Mr. Jensen will also serve on the board of directors of JRJR AG, a Swiss-based holding company which is a subsidiary of JRJR Networks.
JRJR Networks is a growing platform of direct-to-consumer brands. Within JRJR Networks, each company retains its separate identity, sales force, product line and compensation plan, while JRJR Networks seeks synergies and efficiencies in operational areas. JRJR Networks companies currently include The Longaberger Company, a 42-year old maker of hand-crafted baskets and other home decor items;
Your Inspiration At Home, an award-winning maker of hand-crafted spices and other gourmet food items from around the world; Tomboy Tools, a direct seller of tools designed for women; Agel Enterprises, a global seller of nutritional products in gel form as well as a skin care line, operating in 40 countries; Paperly, which offers a line of custom stationery and other personalized products;
My Secret Kitchen, a U.K.-based seller of gourmet food products; Uppercase Living, which offers a line of customizable vinyl expressions for display on walls in the home; Kleeneze, a 95-year old UK-based catalog seller of cleaning, health, beauty, home, outdoor and a variety of other products, and Betterware, a UK-based home catalog seller. JRJR Networks also includes Happenings, a lifestyle publication and marketing company.
Become a Recommended Distributor
Direct Selling Distributors, they are active professionals, who love to team up with you!