Jeunesse And Its Executive Team Take Top Honors In 2016 American Business Awards
May 4, 2016
By Nicole Dunkley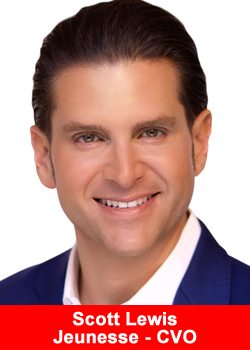 Global youth enhancement company Jeunesse, along with its founders and executive management team, garnered top accolades in the 2016 American Business Awards, winning Gold Stevie® Awards for:
Company of the Year — Consumer Products

Fastest Growing Company of the Year

Management Team of the Year — Consumer Products

Marketing Team of the Year
In addition to being recognized as a top Gold Award winning company, Jeunesse founders and members of the executive management team were also named individually for their contributions to the company's outstanding success, receiving Silver Stevie Awards® for:
Executive of the Year — Randy Ray, Founder and Chief Executive Officer

Woman of the Year — Wendy Lewis, Founder and Chief Operations Officer

Maverick of the Year — Scott Lewis, Chief Visionary Officer

Marketing Executive of the Year — Mark Patterson, Chief Marketing Officer
The company was also honored with Stevies in several other categories including:
Company of the Year — Health Products & Services (Silver)

Best Tradeshow — Jeunesse EXPO Unite Annual World Conference (Silver)

Best New Product of the Year — Nevo energy drink (Bronze)

Marketing Campaign of the Year — Jeunesse Share the Joy Social Media campaign (Bronze)
"We are very pleased to have been honored so highly in the American Business Awards. It's fulfilling to receive recognition for the outstanding efforts of our corporate employees and all of the Jeunesse Distributors around the world that have made our growth and strength as a leader in our industry possible. Awards such as these affirm that we are on the right track building a company our customers and Distributors are proud to be associated with," said Chief Visionary Officer, Scott Lewis.
Widely considered the "Oscars" of the business world, the American Business Awards have presented the coveted Stevie Award® to iconic American companies such as IBM, Disney, AT&T and Coca-Cola, as well as revered CEOs including the late Steve Jobs of Apple, Jeff Bezos of Amazon and Alan Mulally of Ford Motor Company.
This year's competition included more than 3,400 nominations from organizations of all sizes and industries. Stevie Awards® will be presented at a gala in New York on June 20. Visit stevieawards.com/ABA for a full list of winners.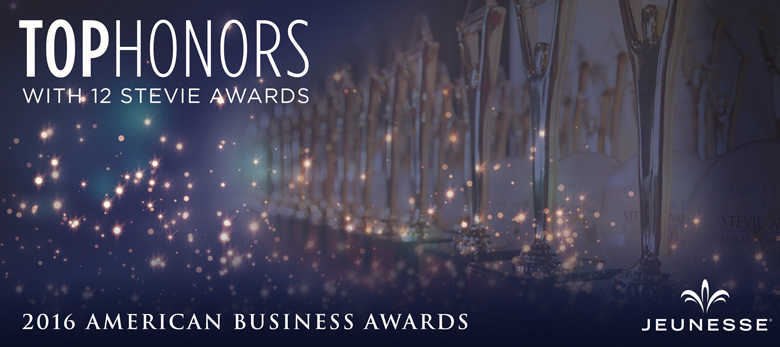 About Jeunesse
Jeunesse is a global direct selling company with a mission to positively impact the world by helping people look and feel young, while empowering them to unleash their potential. The company's exclusive skin care and nutritional products are made in the USA and form a comprehensive Youth Enhancement System. With multilingual customer service, back office support and a global enrollment system, Jeunesse utilizes a cutting-edge platform to share innovative products, training and support through 32 fully operational offices to markets in over 100 countries. Learn more at jeunesseglobal.com.