John Rochon Jr. Named Finalist EY Entrepreneur Of The Year
May 10, 2016
By Team Business For Home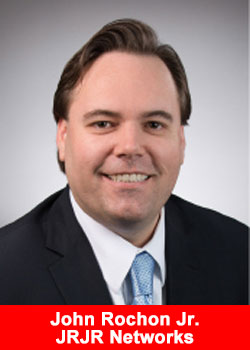 Ernst and Young announced that John Rochon Jr., founder and vice chairman of JRJR Networks [NYSE MKT: JRJR], is a finalist for the EY Entrepreneur Of The Year® 2016 Southwest Award.
The awards program, which is celebrating its 30th year, recognizes entrepreneurs who demonstrate excellence and extraordinary success in such areas as innovation, financial performance and personal commitment to their businesses and communities. Mr. Rochon was selected as a finalist by a panel of independent judges.
Award winners will be announced at a special gala event on Saturday, June 25 at the Hilton Anatole in Dallas.
It's a great honor to have been named a finalist for this very prestigious honor. I believe this shows that what we are accomplishing as a team at JRJR Networks is being noticed and valued, said Mr. Rochon. In only three short years, we've already built a portfolio of ten companies with a presence worldwide. We believe this is only the beginning and we're determined to make this company a global powerhouse over the coming years.
The EY Entrepreneur Of The Year® program has expanded to recognize business leaders in more than 145 cities in more than 60 countries throughout the world.
Regional award winners are eligible for consideration for the EY Entrepreneur Of The Year National program. Award winners in several national categories, as well as the EY Entrepreneur Of The Year National Overall Award winner, will be announced at the EY Entrepreneur Of The Year National Awards gala in Palm Springs, California, on November 19, 2016. The awards are the culminating event of the EY Strategic Growth Forum™, the nation's most prestigious gathering of high-growth, market-leading companies.
About JRJR Networks
JRJR Networks is a growing platform of direct-to-consumer brands. Within JRJR Networks, each company retains its separate identity, sales force, product line and compensation plan, while JRJR Networks seeks synergies and efficiencies in operational areas.
JRJR Networks companies currently include The Longaberger Company, a 42-year old maker of hand-crafted baskets and other home decor items; Your Inspiration At Home, an award-winning maker of hand-crafted spices and other gourmet food items from around the world; Tomboy Tools, a direct seller of tools designed for women;
Agel Enterprises, a global seller of nutritional products in gel form as well as a skin care line, operating in 40 countries; Paperly, which offers a line of custom stationery and other personalized products; My Secret Kitchen, a U.K.-based seller of gourmet food products; Uppercase Living, which offers a line of customizable vinyl expressions for display on walls in the home;
Kleeneze, a 95-year old UK-based catalog seller of cleaning, health, beauty, home, outdoor and a variety of other products, and Betterware, a UK-based home catalog seller. JRJR Networks also includes Happenings, a lifestyle publication and marketing company
About EY Entrepreneur Of The Year
EY Entrepreneur Of The Year is the world's most prestigious business award for entrepreneurs. The unique award makes a difference through the way it encourages entrepreneurial activity among those with potential and recognizes the contribution of people who inspire others with their vision, leadership and achievement.
As the first and only truly global award of its kind, Entrepreneur Of The Year celebrates those who are building and leading successful, growing and dynamic businesses, recognizing them through regional, national and global awards programs in more than 145 cities in more than 60 countries.