QNET Convention Draws 15,000 Global Entrepreneurs To Penang
May 4, 2016
By Nicole Dunkley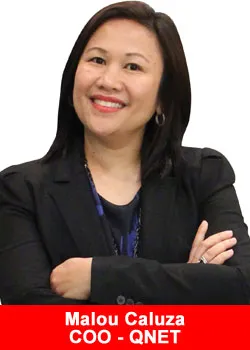 Prominent Asian Direct Selling Company, QNET's annual convention V-Malaysia 2016 opened here today with spectacular drums and music display from around the world amid crowds of lively people in colorful attire.
The sold out convention with a record-breaking 15,000 distributors of QNET from around the globe converged at the Subterranean Penang International Conference & Exhibition Centre (SPICE) Arena in Bayan Lepas.
V-Malaysia 2016 officially opened with pomp and pageantry that included a parade of men and women adorned in colourful national costumes depicting an array of cultures and traditions from around the globe.
"QNET has not only brought successful entrepreneurs to Malaysia, but also has raised the profile of Penang by bringing in so much tourism into the island as well as running a mini United Nations-like gathering. QNET has made it three years in a row of hosting this international convention in Penang.
"If last year this convention drew a record crowd of entrepreneurs, even more QNET people have converged in Penang for this international conference this year. About 15,000 global citizens filled to capacity at SPICE arena. It depicted a collection of diverse nationalities in one place on the island, noted Mr. Haldun Arin, Chief Executive Officer of QNET.
Themed 'Evolve, Empower, Enrich,' the five day exclusive mega event from May 3 to 7 is set to unveil brand new wellness and lifestyle products of QNET as well as new opportunities for the participants.
More importantly, it is aimed at bringing a change in the way QNET moves forward in the direct selling industry and bring them to new heights as a networker and boost their drive to success. With more than 30 brands of QNET products on display at the 'QNET City' exhibition, SPICE Arena has been transformed into one gargantuan showcase of QNET's global business.
"Our global QNET Family has seen through 17 remarkable years – growing bigger, stronger, and better. And for this year's homecoming, our battle cry reminds us of what we have been doing throughout our business, not only to succeed in this industry, but also to elevate ourselves and our community, hence its aptly themed 'Evolve, Empower, Enrich.'
"We have held nine V-Conventions in Malaysia in the last decade, namely in Kota Kinabalu, Petaling Jaya, twice in Shah Alam, Bukit Jalil in Kuala Lumpur and thrice in Penang. It's our flagship event that takes months of meticulous planning. We also see this as our additional contribution to the local economy as thousands of participants come to Malaysia for a week of travel and sightseeing," commented Haldun Arin.
QNET, the flagship subsidiary of the QI Group of Companies, has a strong focus on promoting ethical business practices and inculcates that in its distributors through continuous trainings and workshops.
QNET retails a variety of products for wellness, personal care, home care and e-learning courses among others that enhances the everyday lives of its customers around the world. QNET is also a member of the Direct Selling Associations of Malaysia, Singapore, the Philippines and Indonesia.
About QNET:
As a prominent Asian direct selling company, QNET provides a range of products that are offered through the e-commerce platform by Independent Representatives (IRs) in over 100 countries. The company also has offices and agencies in 25 countries worldwide, and more than 50 stockists, apart from localized operations or franchisees in a number of countries.
QNET is a member of the Direct Selling Association of Malaysia, the Direct Selling Association of Singapore, Direct Selling Association of Philippines, The Direct Selling Association of Indonesia, the Hong Kong Health Food Association and the Health Supplements Industry Association of Singapore among others.
QNET is also active in sports sponsorships around the world, including football (Direct Selling Partner of Manchester City Football Club), Formula One, badminton and more, due to the company's strong belief that the drive, passion and teamwork of sports mirrors that of QNET. For more information, please visit QNET's website at www.qnet.net