Sozo Global Restructures
May 23, 2016
By Team Business For Home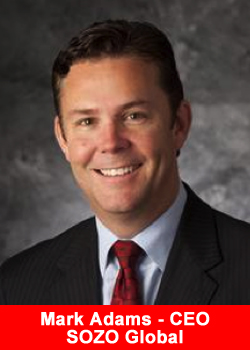 Sozo Global restructures and that triggers a lot of rumors. Canadian third party logistics provider MMP Enterprises has moved to seize inventory and liquidate via auction in an effort to recover invoices defaulted on for services performed.
Master distributor Ken Dunn has left the company which he joined in November 2015, as president Trey Knight.
We reached out to Ken Dunn who stated:
I resigned from the company in April due to mis-stated facts about the company.
Mark Adams, CEO Sozo Global has reached out to Business For Home and stated:
Ted, we are reorganizing our business after 7 years in this industry. However unfortunately during this past 7 years we have accumulated some enemy's.
I suspect rumors are submitted by xxxx (name removed). It is false and slanderous. XXX is very disgruntled with SOZO just as xxxx (name removed) has been. But you know there is truth and then there is fabricated data where your site might be intentionally used to harm our company.
My executive team read your on-line magazine as a regular part of our industry analysis. We have generally found Business For Home to be a credible and ethical source of industry news.
SOZO is an ongoing company and is operating today in multiple countries. We have restructured our executive team, our board of directors and our international operations. We have therefore terminated several employees in Asia and in the US while also hiring several new ones.
About SOZO GLOBAL
SOZO Global is a healthy lifestyle company headquartered in Austin, Texas. SOZO products are sold through independent Distributors across North America, Africa and Asia. SOZO is a best-in-class nutritional products curator with category leading products based on CoffeeBerry®, IGOB131®, numerous globally patented fruit and vegetable extracts and now Meridium® xanthohumol. The SOZO product line includes a nutritional beverage, a range of healthy coffees including one for weight loss support, SoRadiant skincare and Ignite® natural energy drinks.
All SOZO products are of the highest quality, with clinically studied ingredients. The nutritional beverage was the subject of a clinical study to demonstrate its efficacy. SOZO has top leadership in its management team. Mark Adams, CEO, was named the 2008 Ernst & Young Entrepreneur of the Year. SOZO is a proud member of the Direct Selling Association.