Takashi Oda – Synergy Worldwide Achieves Presidential Executive
May 12, 2016
By Team Business For Home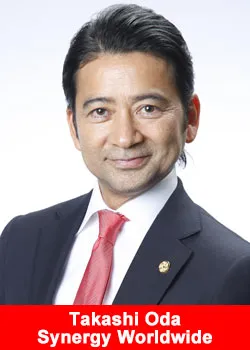 Synergy WorldWide Announces New Presidential Executive in Japan.
Takashi Oda is a Synergy Japan pioneer and is well respected globally for his leadership, positive attitude, and happy smile. In March 2016, Takashi achieved Synergy's Presidential Executive title.
What was more amazing was how he showed his strong leadership and "team first" style to help propel his team to higher advancements, including three new Emerald Executives and three new Pearl Executives.
Takashi accomplished this incredible feat only three months after he achieved the Emerald Executive title. His leadership is one of the key reasons there is major growth in Japan and around the world.
In his teen years, Takashi was a successful professional surfer. Not only did he show great performance in surfing competitions, Takashi was admired as a great instructor. Later, Takashi built a career in the medical industry for 11 years. Through his experiences, he became convinced that good health is the foundation of everything. With this belief in mind, he started his own health company at age 33, and, as a result, has made many notable accomplishments over the past 20 years.
Takashi was introduced to Synergy in 2003 on his 40th birthday. He traveled to Utah and enjoyed meetings with Nature's Sunshine Products (NSP) board members, including NSP Founder Gene Hughes, and observed the manufacturing process.
He was pleased with the high-quality products and the strong management structure. Takashi then met with Synergy Founder Dan Higginson with whom he discussed many issues at length. He was impressed by Dan's personality, passion, and Synergy's philosophy to Leave a Legacy. Takashi gladly accepted Dan's challenge to "help lead the Japanese market in the right direction."
A significant change occurred in Takashi's group when he met with Triple Presidential Executive Yun Tae Hwang in 2013. For Takashi, a simple trip to Korea for training turned into a life-changing experience. Through his strong leadership efforts in supporting and driving the Eagles System in Japan, Takashi's group has grown exponentially. His team is one of the fastest-growing and active teams in all of Synergy. What is most exciting about Takashi's growing team is its focus on Japan's efforts to support the Leave a Legacy philosophy.
Many on Takashi's team call him "Oda-sensei." This comes from the many years Takashi has organized free seminars for youth and young adults where he teaches them valuable life lessons. Many of these young people have transformed into great leaders in Synergy while others have gone on to hold high positions in the business and social world. This will always be a big part of Takashi's life and legacy.
"Good health is at the center of people's happiness and business success," Oda-sensei teaches. "It is necessary to educate and develop human talents by being a great leader."
Takashi has received many awards in his pursuit of the Presidential Executive title, including the Dan Higginson Founder's Award for his charitable efforts in his community. He also received a Most Valuable Team Member Award and is a member of Synergy's Million Dollar Club.
"Your potential is limitless" is Takashi's favorite teaching and is applicable when thinking of the future of Eagles Japan. There is no doubt that Takashi's leadership and example will influence hundreds of thousands of people both in Japan and around the world. He is a gift to Synergy and we look forward to watching his legacy unfold around the world.
About Synergy WorldWide
Synergy WorldWide was founded in 1999 by Dan Higginson who had a company vision to help individuals "Leave a Legacy" through high-quality, scientifically proven products and a unique business opportunity that rewarded teamwork. Since first establishing business roots in Japan, Synergy has grown to thrive in 28 countries, spanning Asia, Europe, North America, and the South Pacific. Synergy is a wholly owned subsidiary of Nature's Sunshine Products, a company that is publicly traded on the NASDAQ and has been a giant in the nutritional supplement industry since its founding in 1972.
Throughout its history, Synergy WorldWide has embraced technologies, testing procedures, and manufacturing processes to ensure that its innovative, science-based formulas unlock your health and lifestyle potential. The recent opening of The Hughes Center for Research and Innovation in February 2015 created a unique environment where Synergy scientists, researchers, and medical professionals have access to state-of-the-art equipment to continue the pursuit of scientific discovery, to create unique product formulations, and to perform clinical studies to validate their safety and efficacy.