Talk Fusion's Marselinus Halim Changing Lives In Indonesia
May 12, 2016
By Nicole Dunkley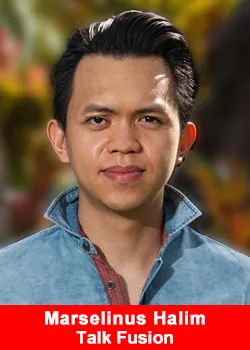 As one of the leaders of Talk Fusion's powerful team of Indonesian Associates, Grand Blue Diamond Marselinus "Marsel" Halim is proof that a strong will, the desire to learn, and the ability to take decisive action—coupled with a perfect business opportunity—can be the vehicle to help drive you down the path of success.
Marsel can frequently be found on stage at one of Team Indonesia's many standing-room-only live events, encouraging thousands of attendees to share Talk Fusion's all-in-one Video Marketing Solution, and helping to reward those who are following his lead.
Along with his brother, Mario Halim, and Mario's wife, Ryani Irawan, Marsel has been making a noticeable difference throughout their home country, sharing Talk Fusion's life-changing Business Opportunity with friends, family, colleagues, and neighbors.
In fact, Marsel believes that Talk Fusion has the power to improve the Indonesian economy itself and better the lives of an entire country.
"If you have the desire to generate income, to realize your dreams and experience incredible personal growth, then I feel that you need to get involved with Talk Fusion," Marsel said. "Don't just look at the surface of the business. Get to know it all."
Marsel's early attempts at a career in direct selling didn't result in that kind of optimism. Not all direct selling companies are built the same, and Marsel initially did not find the right fit—and the potential—that he was looking for. Finally, at the end of 2011, he left direct selling and "started to look for conventional work."
He tried his hand at being an event organizer, an author, and even a motivational speaker. But it wasn't until January 2012 that he found the business that matched his dream. "My brother Mario encouraged me to become involved with Talk Fusion. Of course, it wasn't easy at the beginning, but I trusted my brother. He gave me a lot of confidence. He strives to constantly build confidence."
That confidence building expanded to other members of their family. Their father, mother, and sister are all Talk Fusion Associates. In fact, Marsel credits his entire family's involvement as one of the reasons for his success.
"I've learned anything is possible with Talk Fusion," says Marsel. "If my brother didn't push me to work in relationship marketing, maybe right now, my life would be the same as other people. I'd have to wake up every morning, go to work and have that routine my entire life. Talk Fusion has changed everything."
Marsel knew that to pursue success, he would need the will to learn and develop. Since then, after putting in the time and hard work needed to build a strong team and teach them how to share Talk Fusion's all-in-one Video Marketing Solution, he has finally been able to enjoy the fruits of his labors.
"I get to travel the world. I was able to buy my dream house. I married the woman of my dreams, and my life feels like a dream. I even paid for my dream car in cash."
Marsel's goal is to achieve the highest rank in Talk Fusion and help his entire downline make their own dreams come true. "I see Talk Fusion as more than just a business; Talk Fusion has been able to help me realize all of my dreams. My advice: work hard in Talk Fusion. It really is worth it."
With Talk Fusion's new Free Trial program, Marsel and his team have just been given new resources to expand their business. They've been extremely receptive to the new world of limitless opportunities it has opened up for their business.
We are very excited! said Marsel. The all-new Talk Fusion means a lot to us. All new dreams, new hopes.
Despite the many achievements of his team (and the speed at which they're growing), Marsel only considers them to be at the beginning of their path to success. "Indonesia is only just starting to grow… we are just getting started. We will build this business so it becomes the biggest ever and show that Talk Fusion is the No. 1 Lifestyle Business."
ABOUT TALK FUSION
Home of the world's first all-in-one Video Marketing Solution, Talk Fusion is dedicated to helping businesses stand out from the competition, increase sales and profits, and keep their customers coming back. Talk Fusion offers dynamic ways to make marketing more engaging, memorable, and persuasive with video.
Talk Fusion's innovative products are marketed person-to-person by Independent Associates in more than 140 countries. 30 day Free Trials of the all-in-one Video Marketing Solution are available to anyone who wishes to try before they buy—no credit card required.
Established in 2007 by Founder & CEO Bob Reina, Talk Fusion fosters a strong commitment to Giving Back to family, friends, communities, and animal charities across the world. Learn more or sign up for a 30 day Free Trial at www.TalkFusion.com and "Like" Talk Fusion at www.facebook.com/TalkFusion.
DISCLAIMER
The incomes and lifestyles depicted in this article are not representative of the results achieved by most Talk Fusion Independent Associates. Talk Fusion does not guarantee your financial success. For actual results achieved by all Talk Fusion Independent Associates, see Talk Fusion's Income Disclosure Statement at www.talkfusion.com.