Total Life Changes Announces New Ambassadors, Dexter And Tonya Joyner-Scott
May 21, 2016
By Nicole Dunkley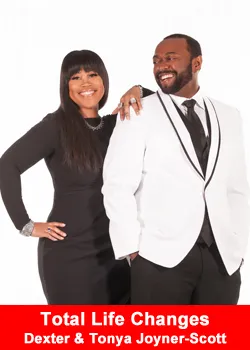 Many people have heard about the success of Dexter and Tonya Joyner-Scott in TLC, but nothing matters more to them than witnessing the success of so many business partners that have joined forces with them in the last 18-24 months.
It has not been an easy path to success for this married couple of four children. They faced adversity, doubt and the loss of a six-figure income before beginning to restore their lives with network marketing.
Tonya has carried her fair share of doubt, fears and limited beliefs of her future for much of her life. These negative attitudes even caused her to become complacent for a while as she began to start a family.
"I kept trying to tell myself that being a stay-at-home-mommy was enough for me, but it really wasn't. I was dying inside because I was no longer living to my fullest potential. My husband was traveling around the world impacting the lives of children and teenagers. He had studied with industry leading speakers and trainers like Les Brown and Paul Martinelli, and yet he found it harder and harder to share all of these wonderful things he was experiencing with me because he knew I was struggling with self-doubt", recalls Tonya Joyner-Scott.
Nearly two years ago, Dexter was unfortunately laid off from his six-figure income, just before leaving the country for a family vacation. It was during this time that the couple did some soul searching. Some call it destiny while others may consider it fate.
Dexter and Tonya felt it was more like divine intervention. It was this action that brought them to Total Life Changes. "The fear I carried most often was the fear of failure. Not just our failure, but the failure of those that may be joining us as well.
This was one of the reasons we sat on this opportunity for as long as we did. But losing my job changed everything. We knew we had to face our fears and do this together for our family and for others. We have since overcome this fear and we are so grateful to be a part of this amazing company!
We have a multitude of people earning great income and advancing in rank month after month throughout our organization since we started building just 2 short years ago," says Dexter Scott.
Recently, one of their personally enrolled Directors named Naeema Houston, purchased a vehicle after her transmission blew in her previous car. It was because of her commissions with TLC that she was approved for her car loan and is still winning with TLC.
They have also been blessed to watch Regional Directors Tony and Shelia McKinnon experience more time freedom since partnering with TLC. Tony was able to separate from his multiple part-time jobs; because of TLC he is now earning more than all of his previous jobs combined.
Another great example of how their leadership and team building has led to others' success is through Executive Director Laura Bethea. Laura is working toward the completion of her doctorate degree in Educational Leadership in Higher Learning from East Carolina University. She has been able to pay her tuition each semester as a result of her TLC commissions.
She no longer needs student loans to meet her financial responsibilities for her education. And lastly, Global Directors Darnell and Dr. Kimberly Edwards have already paid off more than $30,000.00 in debt and their income continues to increase week after week.
These are just a few of the stories throughout Dexter and Tonya Joyner-Scott's organization of partners experiencing success within Total Life Changes. Dexter and Tonya have helped people to believe again and dream again.
Dexter and Tonya have a family reunion coming up. In prior years they would have to wait until the day of the event to pay their fees. "It feels good to no longer have to wait until the day of the event to pay our dues to attend because we couldn't afford to pay it in advance, or better yet, we didn't want to give up that little extra because we needed it for groceries.
It feels good to be able to contribute toward scholarship programs this year. It feels good to be able purchase clothing for our family and not rely on my mother to do it for us. The motivation for everyone right now is bigger than themselves. It's about the next person, the other person. Everyone is finding joy in helping someone feel better, look better, sleep better, or to put it in a nutshell…be better," summarizes Tonya Joyner-Scott.
Dexter and Tonya Joyner-Scott would like to thank and recognize TLC's Global Directors Darnell & Dr. Kimberly Edwards for their wisdom, commitment and passion they bring to the organization; National Directors James & Sheryl Colclough and National Director Chandra Jones?Williams for their servant leadership and the passion they bring to them every day.
"Regional Directors Tony & Shelia McKinnon are first timers to the industry of network marketing. What a great place for them to start, right here with TLC. They live in another city and stepped up to the plate to help us build by creating opportunities for partners to grow and build within their city and its surrounding areas. Lastly, we must give kudos to Executive Director Crystal Flowers who stepped up to the plate to assist us with anything we needed to help us stay organized and effective in our local meetings and events each and every month.
We thank Crystal for her servant leadership. Our team of business partners is affectionately called, Team Advance. Advance is defined as: move forward, typically in a purposeful way. Our mission is to help our team move forward with intentions on changing lives for the better, beginning with their own," adds Ambassador Tonya Joyner-Scott.
About Total Life Changes
Total Life Changes® offers an amazing line of health and beauty products along with a great business opportunity. Founder and CEO Jack Fallon created TLC over 16 years ago with a single product: Iaso® NutraBurst. We have continued to grow the Iaso® brand of products like our popular Iaso® Tea. Our hybrid binary system allows IBOs of TLC to be compensated quickly for introducing new reps to our products and business opportunity. We are dedicated to providing the greatest opportunity for you to feel healthier and flourish financially. Join us and thousands of others who have already started making Total Life Changes.