Darnell And Dr. Kim Edwards Hit Global Director Rank With Total Life Changes
June 20, 2016
By Nicole Dunkley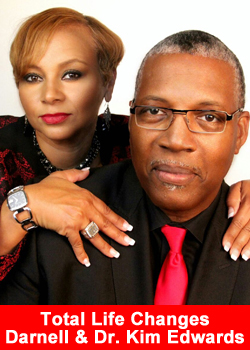 Hundreds of thousands of U.S citizens have faced economic crisis in the past ten years. Being laid off or having their hours reduced has been a familiar occurrence amongst so many Americans as the economy continues to struggle to increase jobs.
At the end of March 2016, 8 million Americans were unemployed, up from 7.8 million in February 2016, according to Forbes.com (April, 1,2016).
This was the case for Darnell and Dr. Kim Edwards too. They had been in several MLM companies with some success, but in 2011 their business bottomed out.
Unfortunately, Dr. Kim went into depression for some time, closing herself off to everyone. She remained in her room, shades drawn and ashamed; she and Darnell had to apply for food stamps after depleting their savings and retirement accounts.
Dr. Kim recalls her time of darkness and depression:
"I closed myself off from family and friends. We were 90 days behind on our mortgage and behind on everything else, but my background in banking helped. I knew how to beat the system. I made sure that I got the payment made by the 89th day to avoid foreclosure. God showed me how to humble myself and I was forced to accept a job in the retail industry making $11 an hour plus commission.
I averaged $15 per hour. I had lost faith in the network marketing industry, all hope was gone to even give it another try. We still managed enough to pay our bills and keep things afloat between my retail wages and my husband's income. We were not able to give our children any extras; but they understood and adjusted. Finally, in 2012 I landed a job back in the banking industry and was able to get back to somewhat of the income that we were accustomed to. I even received a promotion in February, 2013 with a National Bank. Things were getting back to normal. But we were still working our way out of credit debt and I was still finding myself struggling to pay our mortgage.
In October, 2013 I sent the payment for our mortgage, but it posted on the 91st day instead of the 89th. They refused my payment and started the foreclosure process. We immediately filed for bankruptcy to save our home. To say the least, we needed a Total Life Change. We had decided we would not do Network Marketing ever again because of our experience of failing. But in January, 2014 I saw TLC's Executive Ambassador, Lenika Scott post "lose 5lbs in 5 days". I in boxed her on Facebook and asked if it really works and she said, "yes". I could not even afford to get a one-month supply of tea. I wanted to join then, but we vowed we would never do network marketing ever again."
Darnell and Dr. Kim Edwards are led by their trust in God and they believe it was God and the Holy Spirit that lifted them up to give this industry one more try. Dr. Kim began to pray and ask God to find something for her, something in which she could use her gifts and talents and to be able to make a contribution to help and change people's lives. Months later, Ambassador Tonya Joyner Scott in boxed Kim on Facebook and said, "Dexter and I are about to partner with Total Life Changes; we want you and Darnell to partner with us". So on August 1, 2014, they officially joined Total Life Changes.
"We spent our last dime to get started. Lenika and Tonya gave me a pack of the Iaso Tea, and in one week I lost 8 pounds. I posted that on Facebook and my inbox blew up! I bought a weight loss kit and in the next 26 days I lost an additional 24 pounds. Now to date, I have lost 80 pounds, I'm down from a size 22/24 to a size 8/10. I was wearing 2XL sizes and now I'm comfortable in a medium size shirt and pants. I'm back to my high school size and that is exciting. It's been 30 years since I saw this…I feel young again.
My husband has lost 40 pounds on TLC's products and his health is better than ever. By creating our stories through using these amazing products, we have been able to create an incredible list of loyal customers as well as an incredible organization that are creating stories every day. We started earning about $250 per week and we steadily started seeing it grow. We were able to have the extra to do more with our family and just be able to breathe again," adds Dr. Kim.
The Edwards's five children and four grandchildren have witnessed their transformation firsthand. They have seen their mother and grandmother go from desperate and depressed to a lighter, spunkier and happier role model. After only six months, Dr. Kim and Darnell earned $11K on a part-time basis and this provided much relief, but it wasn't enough to assist them in becoming debt-free. Dr. Kim recalls the 'ah-ha' moment where something just clicked:
"It was when TLC had an event in Houston, Texas in February, 2015. Darnell and I were not able to go. And when I saw so many celebrated on Facebook, I knew at that moment… it clicked. It was time for our family to have a Total Life Change. I called Tonya Joyner-Scott and told her we had earned $11k in 6 months, but I promised her that from February to June 2015, we would help more people and we would show up documented as 6 Figure Earners in July 2015 in Atlanta, Georgia. And it happened, because we made a decision that we would change so many people's lives and it was time for our lives to be changed too.
In addition to that, my husband and I qualified for the Regional & Above Excursion, an all-expense paid trip to Cancun, Mexico. 5 Star arrangements! We have traveled, but this was the most incredible life changing experience and it was free! We did all this part-time. We realized that God's purpose for us was to impact and change lives. We rolled our sleeves up and started working to help others to improve their checks and things started to pop like crazy, says Dr. Edwards.
Dr. Kim Edwards had also been struggling with some health issues. She visited her doctor and he prescribed some time off of work. When the doctor's note expired, she was given an extension in order to make a complete recovery, but her employer was not agreeable to the extension. Dr. Kim made a critical decision on her birthday, August 24, 2015; she completed her official resignation and has not looked back.
"God honors faith and we have been able to pay off almost $40,000 in debt. We are out of bankruptcy. Our savings is building back up and we are restoring our retirement accounts as well. We have our time back. We have peace of mind. We thank God for Jack Fallon for his vision 16 years ago to start this company. For his humble spirit and heart, to want more for people no matter what your background is. We thank God for the founding families, the Executive Ambassadors Kenny & Chante Lloyd, Gregg and Lenika Scott, and the late Erwin Portis and Twiler Portis.
Your 'YES' has changed so many people's lives including ours. Our Executive Ambassadors Gregg and Lenika Scott built belief in us early on. I remember just getting started and Gregg and Lenika would tell me to lean into my gift of retailing and I would be very successful with Total Life Changes. They were right.
Special thanks to Executive Ambassador Twiler Portis who helped me through a period of my journey in TLC. You have truly impacted my family's life and we are forever grateful for you and your husband. Special thanks to our sponsors, Ambassadors Dexter and Tonya Joyner Scott. Your 'YES' has changed our lives, we are forever grateful for the leadership and your support of us and the entire team during our journey. Continue to change lives, always keeping the next person in mind first. You guys Rock!" exclaims Dr. Kim Edwards.
About Total Life Changes
Total Life Changes® offers an amazing line of health and beauty products along with a great business opportunity. Founder and CEO Jack Fallon created TLC over 16 years ago with a single product: NutraBurst®. We have continued to grow the Iaso® brand of products like our popular Iaso® Tea.
Our hybrid binary system allows IBOs of TLC to be compensated quickly for introducing new reps to our products and business opportunity. We are dedicated to providing the greatest opportunity for you to feel healthier and flourish financially. Join us and thousands of others who have already started making Total Life Changes.