Dave Savula – LegalShield Top Earner Passed Away
June 24, 2016
By Team Business For Home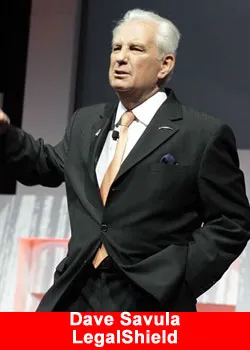 Dave Savula, LegalShield Top Earner has passed away.
In 2014 LegalShield has granted him a Lifetime Achievement Award:
LegalShield, one of the nation's leading providers of legal safeguards for individuals, families and small businesses, honored Dave Savula for his remarkable career as a LegalShield associate with the first ever Dave Savula Lifetime Achievement Award at a special ceremony in Ada, Oklahoma last evening.
Savula received the award after a nearly 25 year sales career with the company, during which he became LegalShield's first million dollar and multi-million dollar sales earner, as well as a leader in the multi-level marketing community.
Dave embodies what LegalShield associates should strive to be: hard working, persistent, dedicated, and of good moral character, said Rip Mason, the CEO of LegalShield. He has been integral to the success of the sales force and is a friend to many within the organization. With this award, we recognize and applaud his efforts to help provide legal safeguards to the masses.
Savula and his wife Beverly became LegalShield members in 1985 before becoming associates in 1992. They pioneered a sales approach that is used throughout the company today. Over the years, he has been instrumental in training new LegalShield associates and is a renowned public and motivational speaker. He is a Diamond 7 associate, which is the highest sales designation a LegalShield associate can receive.
I'm delighted to receive this award and honored that's it named after me, said Savula. I was fortunate enough to have a great partner throughout my sales career and couldn't have done it without the support of my wife Bev. We thank LegalShield for giving us the opportunity to sell this outstanding product for nearly 25 years.
The Dave Savula Lifetime Achievement award will be given at the discretion of LegalShield to honor associates and employees who embody LegalShield'score values and make an outstanding personal commitment to the organization.