Ed Bestoso Melaleuca Achieves $40 Million In Career Earnings
June 10, 2016
By Team Business For Home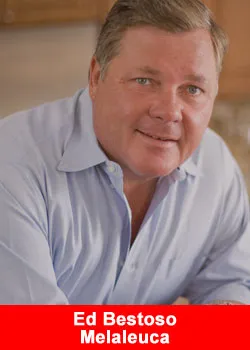 Ed Bestoso is the top earner in Melaleuca and has achieved $40 million in his Direct Seling career and has the largest team in his company.
This is what Ed had to say::
In the late 80's, as a result of the recession and subsequent Real Estate collapse, I closed the family's business, one of New England's largest commercial window treatment applicators, that I was operating since I was in my twenties.
I had an unfulfilling experience in the network marketing industry (MLM), but I still had to make something work, for me, and a then growing family. With several friends and a list that we called "the 12 Success Factors", that we penned in a couple of afternoon sessions, I set out to find a real company that was constructed differently than the multi-level model that had disappointed me and my friends.
It's not a difficult business, but we're in a business of duplication. We don't try to develop new-fangled ways of doing it— we only have one presentation we do every time.

The exciting part is finding the person who circles '3' and digging in and getting them to dream. That's the exciting part for me—seeing the look on people's faces when they turn from skeptics to dreamers.
I soon (time was of the essence) discovered a company that not only satisfied the Success Factors, but had a unique business model called Consumer Direct Marketing. I rose within the company's ranks and in a little over five years, achieved the highest rank in the company's history.
My leaders has these three things:

You need to be coachable, you gotta have heart, and you have to want to win.

If you're not coachable, you'll never get out of the gate. You have to care about others; it can't be about you. And you have to want to win—no one can give you that.
I opened new International opportunities and spoke at Conventions and high-level advancement meetings. It was easy because, I was working for myself (the business model is based on discreet personal business ownership), and I was referring people to healthy and environmentally safe products in categories that they already used, so there was no additional spending.
One of the company's benchmarks is to develop other business builders and help them reach their personal goals (their WHY). Everyday I am grateful for the successes in my own business and for the successes of other leaders I have been able to help.
About Melaleuca
Melaleuca: The Wellness Company® enhances lives by developing, manufacturing and marketing more than 350 natural health and wellness products. These health, home cleaning, pharmaceutical and personal care products are designed to be safer and more cost-effective than grocery store brands. Visit melaleuca.com for more information.